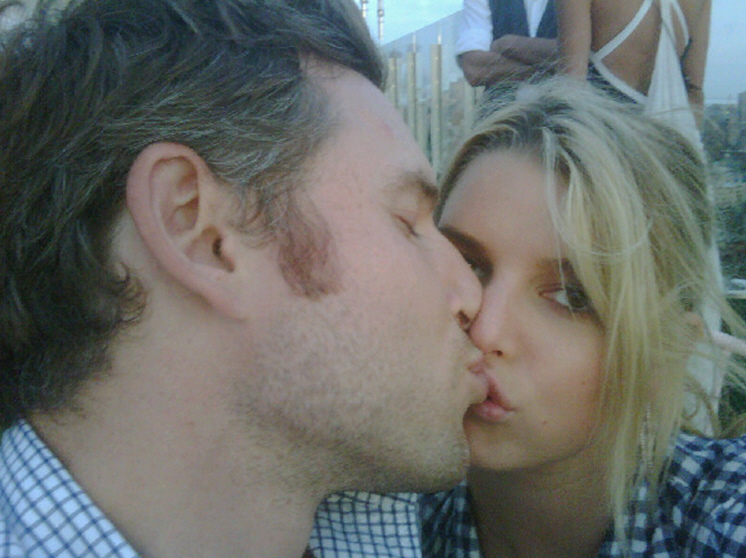 Yesterday, Jessica Simpson posted the above photo on her Twitter page with the tweet, "Romance 101..getting kissed by my Yalie…me not lookin' so smart…:) but YUM!" Yes, that's her "Yalie" Eric Johnson. Otherwise known as Jessica's new (PR) boyfriend. Also known as the dude who dropped out of the Wharton program just so he could stay in LA with Jessica's Sexual Napalm, and the dude Jessica is probably already financially supporting. I didn't realize he was a Yale graduate, but there it is:
Jessica Simpson isn't afraid to show the world her love for new beau Eric Johnson. She posted a shot of her smooching her latest squeeze (a Yale graduate) on her Twitter page.

"Romance 101..getting kissed by my Yalie…me not lookin' so smart…:)" she wrote. "but YUM!"

The new Us Weekly reports Johnson, 30, has pulled out of the two-year business program at the University of Pennsylvania's prestigious Wharton school to remain in L.A. with the 30-year-old singer.

Even though they've only been together eight weeks, a source tells Us: "He doesn't want to move to Philadelphia and leave her so soon after they got together."
[From Us Weekly]
I should know by now that even though someone graduates from a good school, doesn't mean that they actually learned anything, or that they're actually intelligent. So, with that in mind, what's the verdict on Jessica and her "Yalie"? Are the Wiffenpoofs going to gang up on Eric and kick his ass? Is this all some horrible Skull & Bones plot involving massive boobs and Papa Joe? What does it all mean?!?