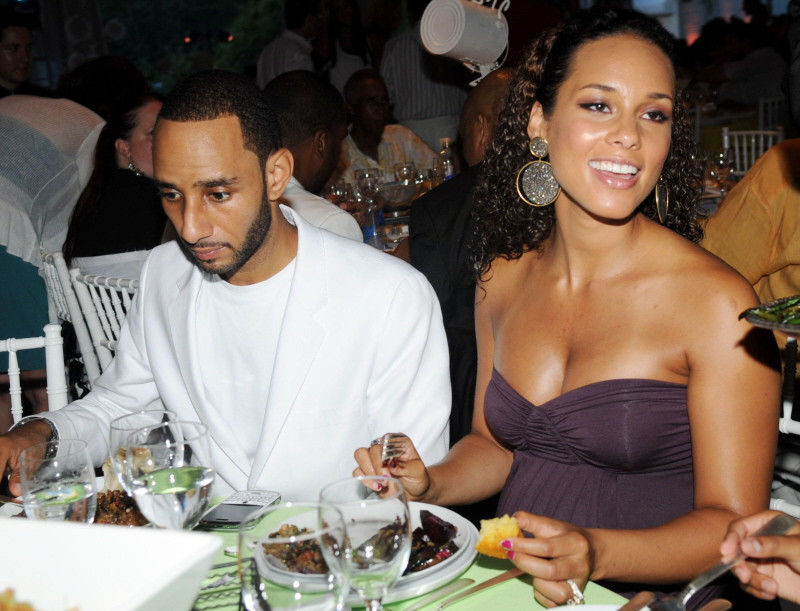 On Friday, Perez Hilton was one of the first to report that Alicia Keys and Swizz beatz had gotten married last weekend. Perez sourced Us Weekly, who only a few hours later ate sh-t and admitted that Alicia and Swizz had not gotten hitched. However, everyone could have just waited a few days – according to mostly British sources, Alicia and Swizz got hitched in France yesterday, Saturday the 31st. Apparently, it happened in Corsica, and people like Queen Latifah and Bono came to the wedding. According to sources, Swizz wore a white tuxedo jacket, a pink shirt and bow tie (bad call with that nose, in my opinion, a bow tie draws the eye up), and Alicia wore white on her large baby bump:
Mother-to-be Alicia Keys has tied the knot with her rap producer boyfriend in France. The singer, who is due to give birth in November, walked down the aisle yesterday in front of a host of celebrity guests, including U2 rocker Bono and Queen Latifah.

Keys reportedly wore a flowing white gown and headband, while her partner, Swizz Beatz, donned a white tuxedo and bow tie for the big day.

The pair arrived at their venue in Corsica several days ago and have been spotted relaxing and sunbathing together ahead of the celebrations. Keys, 29, is a seasoned performer. At the age of seven she started performing classical music on the piano.

Her debut album, Songs In A Minor sold over 12million copies worldwide and earned her five Grammy Awards in 2002, including Best New Artist and Song of the Year for Fallin'.

Keys and Beatz, whose real name is Kaseem Dean, have been dating since 2008.
Beatz is currently finalising his divorce from his first wife of four years, Mishonda Tifrere, who is also the mother of one of his two children.

Last month Keys confirmed on Good Morning America that she is pregnant and due in November.
[Fron The Daily Mail]
Well, congratulations to them. I really do hope that they'll be happy and that their marriage won't be as drama-filled as the previous year has been, what with Mashonda calling Alicia a homewrecker and Jahna Sebastian (Swizz's third baby-mama) making a lot of noise. Alicia doesn't seem to be bothered by all of it – after all, Oprah told her to ignore it, right? So Alicia probably thinks Swizz has changed. Or that he would never cheat on her and dump her and get another girl pregnant, right? And hey, maybe he won't. Fingers crossed.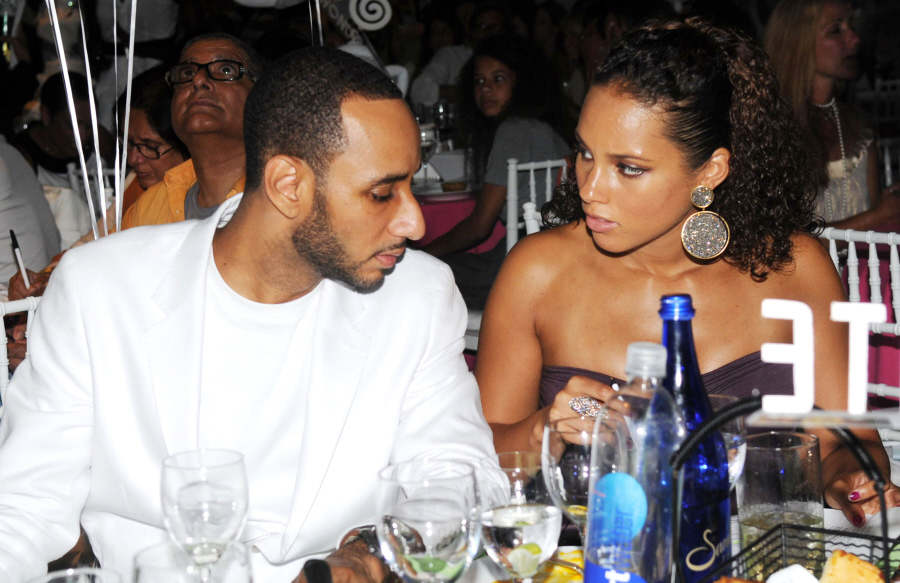 Alicia and Swizz on July 24, 2010. Credit: WENN.