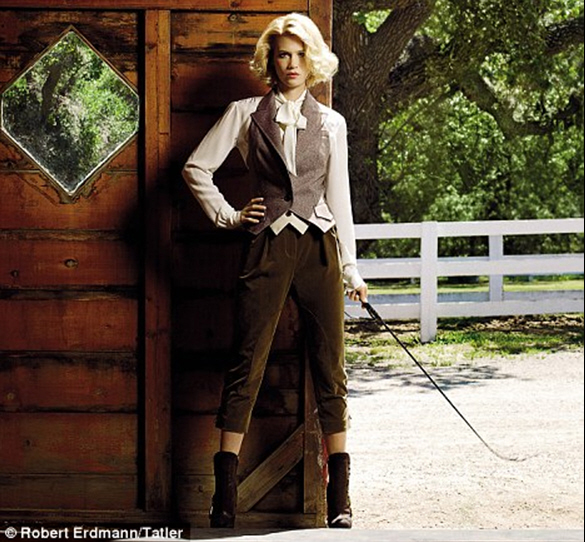 January Jones is the September cover girl for Tatler Magazine (a UK publication). January continues to garner lots of press in Britain – Mad Men is extremely popular there, and January and all of the stars seem to be big hits with the British press. I'm mentioning that in case you're wondering why January seems to do so many interviews in England – because I was wondering about it too. Anyway, The Daily Mail had some interview snippets from her Tatler profile, and it seems like all she was talking about was the softer body image ideals in Mad Men, and how everyone really appreciates it. By the way, does everyone love how the horse is photobombing January on the cover?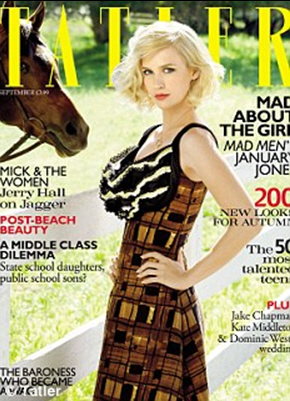 It was a Size 14 bombshell, lobbed into the anorexic world of fashion. And Equalities Minister Lynne Featherstone certainly caused an explosion when she declared last week that the curvaceous female stars of hit TV show Mad Men make ideal role models for young girls.

The Minister earned criticism for arguing that the buxom, hourglass figures of actresses such as Christina Hendricks were both healthy and empowering. But now one of the cult show's other women stars has endorsed the Minister's views, saying that men find a fuller figure far sexier.

And January Jones, who plays long-suffering housewife Betty Draper in the Emmy award-winning TV drama, says its creator Matthew Weiner agrees – telling female members of the cast to avoid strenuous exercise in order to maintain their curves and avoid muscle definition.

The 32-year-old actress says Weiner, anxious to echo the curvier silhouette of the show's early Sixties era, is as demanding as any magazine editor or fashion designer – but with a difference.

'He would prefer we didn't work out and that we eat really well, so we look like healthy women,' she says.

The actress, whose looks are often compared to Grace Kelly's, says she is pleased the show has brought back the idea that 'it's OK to have curves and be a woman. I wish more women would realize that's what men like'.

She admits to loving 'beer and carbs' and says she is now quite taken with her curves after producers admonished her last year for being too thin.

In an interview with Tatler, January also confesses that she has learned to love the girdle she wears to help her achieve her hourglass looks.

'It gives you such a nice shape,' she says.

She is surprisingly unshocked by the show's Sixties sexism.

'I don't think we've come very far,' she says. 'At least they were gentlemen back then. They might say something s****y behind your back, but at least they opened the door.'

The first three series of Mad Men, which is set in a fictitious ad agency, were shown on BBC4 and the show has just begun its fourth series in the US.
[From The Daily Mail]
I don't really have anything to add except that I do appreciate the contributions Mad Men has brought to the body image conversation. While I think January has a lovely figure, she's very slender and she just seems… well, not like the actress who should get the most credit. That credit should go to Christina Hendricks and bodacious body. Speaking of, did everyone see this video, below? Christina was being interviewed on KTLA, and the anchor Brian McFayden… well, he just turned into a very sweet, very enamored stuttering dude when he was sitting across from Christina. My favorite is when he says that the idea of Christina taking a bath is "awesome."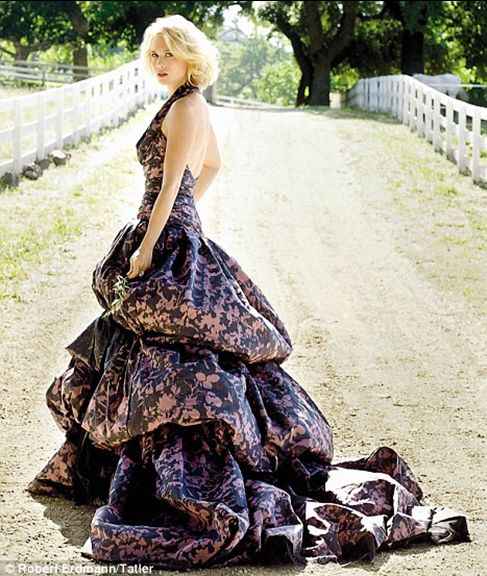 Tatler images courtesy of The Daily Mail.