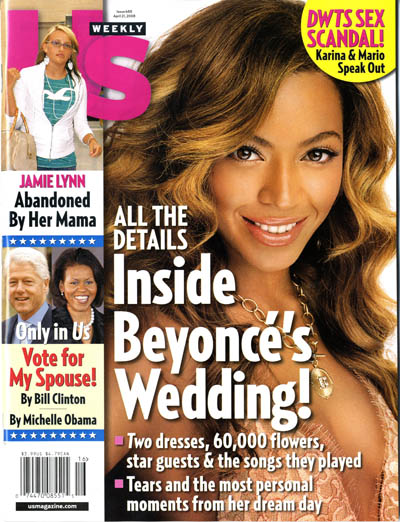 Well I really hope Beyonce and Jay-Z's "We're not gonna discuss whether or not we're married" thing works out really well for them. The two singers – who last time I checked, depended on fans and publicity for their large incomes – refused to say whether or not they had gotten married. And while I get that they wanted to keep it on the downlow prior to the event so that they could have a private ceremony, there was absolutely no need not to confirm the marriage after it had taken place. Part of me thinks they refused to do it in an attempt to get even more publicity. Either way, Beyonce and Jay-Z did marry on Friday, April 4th just like everyone thought.
Beyoncé and Jay-Z are mum, but their paperwork is doing the talking for them: The couple filed their signed wedding license Friday in Scarsdale, N.Y., PEOPLE has confirmed exclusively.

Scarsdale Town Clerk Donna Conkling tells PEOPLE the license – which lists the wedding date as April 4 – was received on Friday afternoon. The couple applied for the license just three days before the ceremony attended by friends and family, including Beyoncé's mother Tina Knowles, her father/manager Mathew, her sister Solange, her Destiny's Child pals Kelly Rowland and Michelle Williams, and the couple's friend Gwyneth Paltrow.

Although the couple's license was filed more than five days after the wedding – as required by law – Conkling tells PEOPLE it's expected to be processed with the state without a penalty. (No special celeb treatment here: Conkling says the penalty is frequently waived.) Though sources confirmed the wedding to PEOPLE, the couple have remained silent about their nuptials. Shortly after the wedding, Beyonce was spotted with a ring while joining Jay-Z on tour, but neither of them have publicly stepped out with new jewelry.
[From People]
I don't know why, but it really grates on my nerves that Jay-Z and Beyonce couldn't just say yes or no after the fact. I totally agree that they have the right to privacy during their wedding – and of course they have the right not to tell people if they're married. I just think it would have been courteous to give a simple yes or no one way or the other. A lot more talk went on due to their refusal to confirm anything in their attempt to "keep things private." Though I'm guessing that was the real point all along. Refuse to ever talk about it, and get more press than ever. Or maybe Beyonce was just ashamed because of the supposedly tacky-ass job her mom Tina did putting the wedding together. I'm guessing that's the more likely reason.
US Weekly and People cover images from coverawards.com via Gossip Rocks.