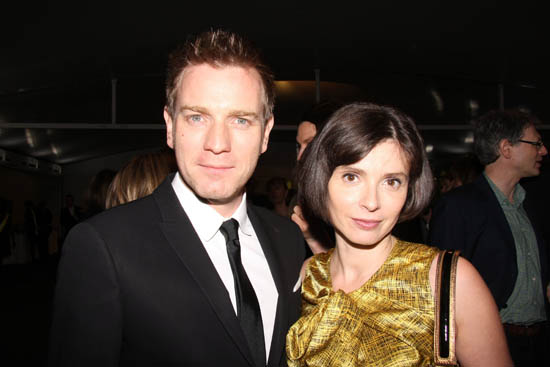 Beloved Scottish actor Ewan McGregor had a cancerous mole removed from below his right eye. The Huffington Post has a comparison of his face before and after two moles were removed. The one under his eye was cancerous.
In an interview with the BBC, he said "I had a little skin cancer under here, under my eye."
"I just went to have them checked. You have to be careful if you're pale skinned and you've spent time in the sun with moles, so I went to a specialist who thought they were better to be removed and indeed he was correct."
He said "Everything's fine. It's all good [now]" He said he didn't have moments of panic and that it was just something he had to keep in check.
As for whether he'll get back on his motorcycle for another big trip, McGregor said he rides his bike every day, but that he's focusing on his films for now. McGregor took a three month trip around Europe on his bicycle with his friend Charley Boorman and a cameraman in 2004. Their journey was made into a TV series and a book, and they visited some of UNICEF's local work on the way. They took another three month trip last year from Scotland to South Africa.
McGregor, 37, has been married to French production designer Eva Marvrakis, since 1995 and they have three daughters, Clara, 12, Esther, 6, and Jamiyan, 6. Jamiyan was adopted from Mongolia, and Ewan met her when he was on his motorcycle trip.
McGregor makes it a policy not to talk about his family in interviews, and prefers to keep that part of his life private.
I don't think I'm alone in swooning over this guy. He didn't volunteer the information about his cancerous mole – the interviewer specifically asked about it because she noticed that his moles were gone since he made the film Deception, which he's promoting. It's an erotic thriller also starring Michelle Williams and Hugh Jackman and is out on Friday in the US, UK, Australia and Russia.
Here's the trailer, it looks good!

Ewan McGregor and his wife, Eva Marvrakis, are shown at the Hampstead Theatre Spring Gala on 3/13/08, thanks to WENN. Ewan is shown below at the Empire Awards on 3/9/08, thanks to PRPhotos.
[Details from BBC and Wikipedia]