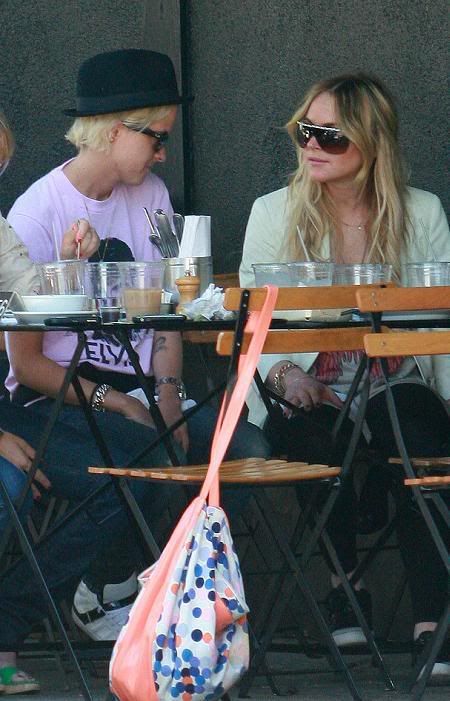 Lindsay Lohan seems pretty intent on proving to her father that he doesn't have a say in her life. And frankly, Michael Lohan is such a blowhard jerk that I don't blame her. Lohan spent the weekend partying it up in New York City alongside BFF/possible part-time lover Samantha Ronson. They hit the Hawaiian Tropic Zone in Times Square where Ronson deejayed for four hours. Lohan, ever the loyal friend, hung out with Ronson a bit before she headed for the dance floor – and the bar. And this time, Lohan didn't bother to pretend to drink water.
The pair arrived together, both wearing black leather jackets, right on time at 12 a.m. A blond-haired Lohan stationed herself at a table directly behind Ronson's deejay booth in the second level VIP section, which overlooked a packed dance floor.

For the first hour, the star sat at her table, chatting with friends and smoking cigarettes. Then Lohan started dancing to Britney Spears's "Gimme More." Drinking Grey Goose and Red Bull cocktails, she danced the night away with girlfriends. Lohan really got into the music, tossing her hair around and doing full body rolls – even throwing her hands in the air and singing along to Madonna's new song "4 Minutes." She also sang along and pumped her chest to "Soulja Boy."

As the night wound down, Lohan sat at her table and text messaged until Ronson's gig was over. They left in a black Cadillac Escalade at 4:15 a.m. Last weekend, Lohan accompanied Ronson to gigs at three different clubs in Los Angeles.
[From People]
The image of Lindsay Lohan doing full body rolls makes me physically ill. I can just see her "throwing her hands in the air" and then probably waving them like she just don't care. As much as I hoped she'd knock off the booze, I'm glad she's at least not hiding it anymore. It kind of made me feel like a jerk to say she was probably drinking when we'd just see that ever-present "water" bottle she'd tote around.
I'm going to assume that if Lohan-friendly People says she was pounding Grey Goose (okay I added the pounding… but it's Lohan, it's safe to assume) then she probably really was. The whole night sounds like a big "F*** you" to her missionary-pressuring dad. Expect to hear about a press conference from Michael Lohan within the next two hours.
Here's Lindsay and Samantha and another 2 friends at Joan's on 3rd on Thursday. There were police around who escorted the actress to her SUV after dining. Images thanks to Splash.