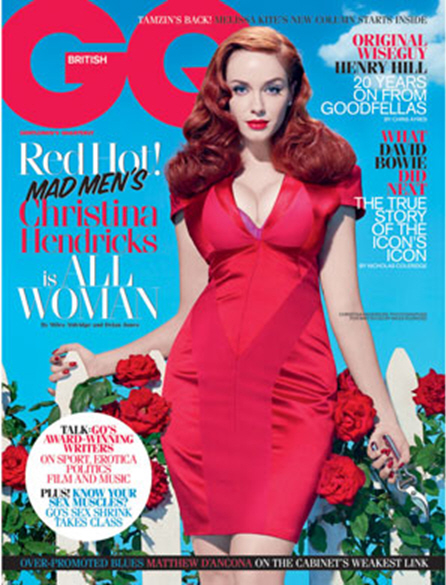 Christina Hendricks is the September cover girl for GQ UK. Okay, why does NO ONE know how to style her? She's so, so pretty and she has this killer figure, and yet in photo shoot after photo shoot, Christina proves that stylists don't have any idea what to do with a pale redhead. It's almost like stylists are completely befuddled when someone doesn't look like Lindsay Lohan. Anyway… Christina talks about her body in this interview, just like she always does. I know, everyone is getting a little tired of reading her pro-curves interviews, and I think we'd all like to sit through one interview where she didn't get any questions about her body. That being said, I think she's still getting questions about her body because she's just that bodacious, and – especially when it's with a men's magazine – people want to talk about it. And honestly, she doesn't talk about it that much in this interview:
You probably didn't need Equalities Minister Lynne Featherstone to tell you that Christina Hendricks has a fabulous figure. As Joan Harris (née Holloway), the alpha female in Matt Weiner's Mad Men and the cover star of British GQ's September issue, we've admired her for some time. In person, Hendricks more than lives up to the hype – flirty, chatty and utterly charming, she makes a mean gimlet and tells some good stories. In a GQ.com exclusive interview with this month's cover star, we ask her about fan reactions, her hopes for Joan in the future and how it feels to be a pinup…

GQ: What's more unpleasant on set – being in incredibly tight clothing or smoking fake herbal cigarettes?
Christina Hendricks: I adore the incredibly tight clothing! My own wardobe's changed – I've streamlined a little bit and definitely learnt from Joan's sleekiness and tailoring. As for the herbal cigarettes, for the most part I don't smoke as much as the guys do. I'm usually just strutting around a bit more so I don't actually have to be inhaling it. I'm lucky because I do have scenes where the cigarettes work beautifully to punctuate certain things I'm saying.

Obviously one of our all-time favourite scenes is the lipstick test in the two-way mirror in season one…
That scene is perfect for Joan. She's controlling the women – she has more knowledge than them – and she's also manipulating the men at the same time. I lean over and I quite simply show my ass to the men. When I read it I just thought it was so fabulous. I just thought, "How strong and amazing is this woman?"

Do fans expect you to be in character all the time?
Everyone assumes we're always going to have a cocktail and a cigarette in hand. Fans expect us all to be dressed up all the time. They always say to me, "You look so young. You don't seem as tall!" We have defined these characters – people always expect to see me in a pencil skirt. When they see me out of one – much like when they see Jon Hamm's hair when it isn't slick – they say, "Wait a minute, you're all 2010!"

How excited are you by the new season?
I'm waiting for the backlash and every season I think, "Can we do it again?" But Matt just keeps doing it. At some point some really mean person is going to go, "I don't understand what all the fuss is about."

One of the most talked-about moments in the entire show came when Joan made a catty remark to Paul Kensey's black girlfriend…
First of all, she's not racist. I had a long conversation with Matt about this because it was off-putting to me. When I read that script I got very upset, called Matt and said, "You're turning her into a monster, what are you doing?" He told me, "Calm down, Joan's not racist – Paul's just a jackass". She is just calling Paul Kensey out on his crap. He's being a fool and she's the only person who will say it out loud and tell him what it is – he thinks it's really cool that she's black. I thought I'd get lots of comments about this scene because I guess it goes so well with the period that it didn't bring as much.

One of the many reasons we enjoy the series is it doesn't take the easy way out. When Joan shows she has an ability to pick good sitcom scripts in season two, it's heartbreaking seeing her being overlooked…
I get more response from that than anything else. People are horrified at how talented and enthusiastic she was, only to have it yanked away from her. People keep coming up to me and asking about that episode. What's even more heartbreaking for her is that it's never even referenced again.

How much did Helen Gurley Brown's 1962 book Sex And The Single Girl influence you in creating Joan?
Gosh, it was very much about being aware of oneself. Each move being very controlled and manipulative, but not in a negative way. The book was about presenting oneself and how to do it. Joan is not trying to follow that book note for note but it gives a flavour of who she is. I think she's very much about appearance, control and handling the situation.

Have you had any strange fan reactions?
It seems like a very masculine show but there are women who are absolutely obsessed by it. I had a girl last year who wrote me a very long letter about how she related to my character the most and how wonderful it was because she was having an affair with her boss at work. It was at that point I said, "It's not my place to give any advice on this one!"

But what would Joan say?
I think Joan's advice would be: always know more than anyone else, always be discrete as possible. And never cry at work.

What is it that makes Joan special?
Joan's a dream to play – she's not always prancing around the office. There's that side to it, which is really fun, but there's nitty-gritty. She's what makes the workplace so fun – in a workplace that can be so dark and so much tension, Joan gives some levity. And the wonderful thing is she still has these darker moments among the fabulous highs.

Do you ever feel that the period detail gets in the way?
I think it makes it wonderful. We have the confidence to know that when we walk on that things are right. There's no question. You mind starts to work in the same way – you start to walk on set and think, "I don't know about that lamp." It becomes something of sport. We make sure we're perfect before we walk on set in terms of preparation and wardrobe – once we get on there it all clicks together perfectly.

Does it feel good to be a pinup?
Well, I'm thrilled. I'd love to be thought of as that…

What are your hopes for Joan in the future?
I just keep praying for Joan to get her power back. To resolve her problems and rise to the top. To fight back!
[From GQ UK]
SPOILERS for last night's episode: Last night's Mad Men had some really good moments for Joanie, and we found out that she's still with her meatball husband, and that he hasn't gone to Vietnam yet. We also found out that Roger Sterling is still really hot for Joanie (of course) and that she's still awesome at her job and that she's really wonderful at the head of the conga line. Also: Don Draper boned his secretary, so now we know that the newly single Don doesn't have a huge problem with f-cking coworkers… so when are he and Joanie going to do it?!?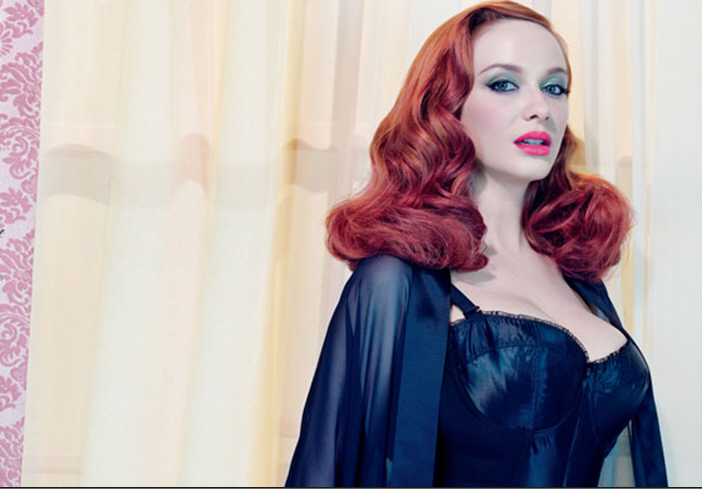 Photos via GQ UK online.