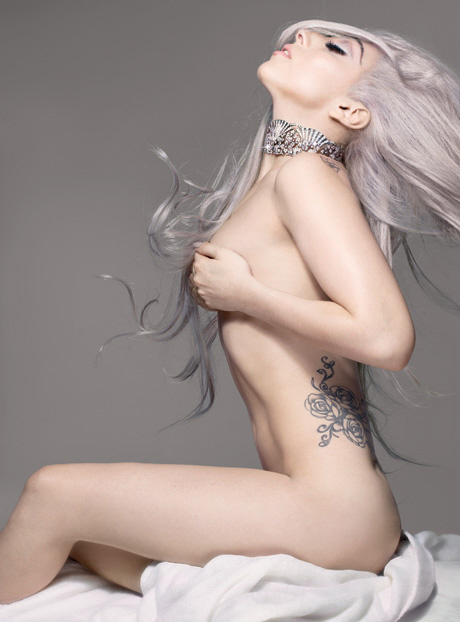 We already previewed Vanity Fair's angelic drag queen cover of Lady Gaga for September (the American & UK editions used the same cover). But VF has just released another photo from the Nick Knight shoot, and they also released some interesting interview excerpts. My favorite, the quote I'm going to have put on a t-shirt? "I have this weird thing that if I sleep with someone they're going to take my creativity from me through my vagina." Excellent. That quote is a famewhore's delight. It hits every sweet spot. It makes me feel two things instantly: one, that Gaga probably does feel that way and two, that the bitch needs to settle down. I love her and everything, but girl, your vadge is not the center of your creativity.
Lady Gaga tells Vanity Fair contributing editor Lisa Robinson that she tries to avoid having sex because she is afraid of depleting her creative energy—"I have this weird thing that if I sleep with someone they're going to take my creativity from me through my vagina."

She also says that she doesn't trust anybody and doesn't know if she ever will. Gaga tells Robinson, "I'm perpetually lonely. I'm lonely when I'm in relationships. It's my condition as an artist." Regarding men, she says, "I'm drawn to bad romances. And my song ["Bad Romance"] is about whether I go after those [sort of relationships] or if they find me. I'm quite celibate now; I don't really get time to meet anyone."

Gaga talks candidly about her drug use and recalls her ultimate low point: "I was completely mental and had just been through so much." She had been using drugs, and is quick to tell Robinson that, if she writes about that incident, "I do not want my fans to ever emulate that or be that way. I don't want my fans to think they have to be that way to be great. It's in the past. It was a low point, and it led to disaster."

Instead of rehab, though, when disaster struck, Gaga "went home." She tells Robinson, "All I will say is I hit rock bottom, and it was enough to send a person over the edge. My mother knew the truth about that day, and she screamed so loud on the other end of the phone, I'll never forget it. And she said, 'I'm coming to get you.'"

Gaga says they went to her 82-year-old grandmother's house in West Virginia.

"I cried. I told her I thought my life was over and I have no hope and I've worked so hard, and I knew I was good. What would I do now? And she said, 'I'm gonna let you cry for a few more hours. And then after those few hours are up, you're gonna stop crying, you're gonna pick yourself up, you're gonna go back to New York, and you're gonna kick some ass.'"

Gaga also responds to the brouhaha surrounding her appearance at the Yankees game, and what she wore to her sister's graduation; shows Robinson the contents of her bag; explains her devotion to her Little Monsters; and more.
[From Vanity Fair]
I wish we had the quotes about the Yankees game, because this other sh-t has been talked about to the point of exhaustion. I mean, we get it. She had a breakdown before she got famous and her parents were there for her and blah blah. She's 24 years old and her only new experiences are in the public eye, so why do we have to rake over this old sh-t constantly? Eh. I have this weird thing that if I sleep with someone they're going to take my rage from me through my vagina.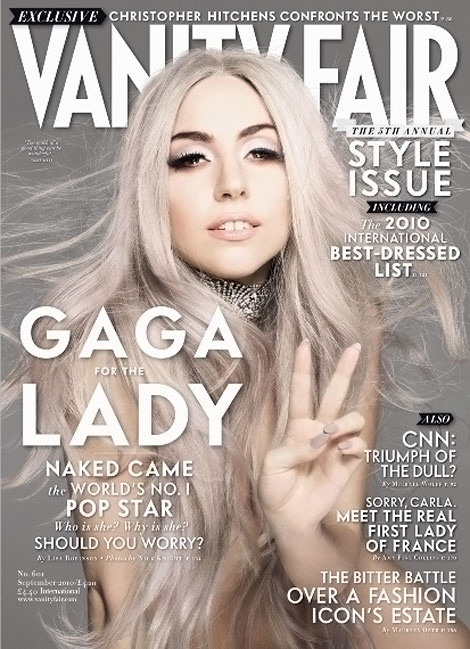 Nick Knight photos for Vanity Fair, courtesy of VF.