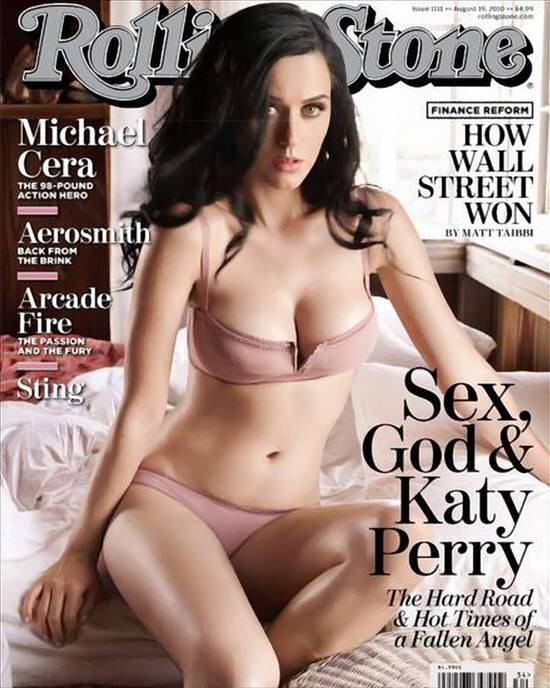 Yesterday, I did a preview of Katy Perry's Rolling Stone interview, in which Katy described her parents as "freelance" ministers who used to speak in tongues and have odd rules about deviled eggs. Unfortunately, we didn't have any photos from Katy's Rolling Stone shoot – well, any good-quality photos, I should say. So here's her RS cover: rather bland, right? I do think she's a pretty girl, and while I'm glad she didn't go all out with some neon wig and cover herself in whipped cream, I'm not sure this neutral, subdued image is really doing that much either. Or maybe Katy just can't win with me! Anyway, The Daily Mail is making a big deal about how Katy's waist looks really 'Shopped on the cover:
As a dedicated gym goer, Katy Perry is in enviably good shape. The star has even stepped up her workouts to five times a week ahead of her wedding and yesterday showed off the fruits of her labour in a revealing bikini as she held a press conference in a stunning rooftop infinity pool in Singapore.

But pictured in her underwear on the cover of this month's Rolling Stone magazine, it would appear the singer has been made to look even slimmer with a little help from the airbrush.

Katy is wearing a pink bra and knickers in the sultry photoshoot, but her torso seems to have had any hint of body fat digitally removed, resulting in her looking impossibly thin.
Her barely there love handles have also been streamlined, plus the photos have been subjected to the usual procedures of sofening and smoothing, with not a blemish in sight.

Yesterday, Katy put her curves on display at the open-air Singfest music festival in Singapore. She slipped into a patterned bikini to hold a press conference in the a luxury 150metre infinity pool, situated on the roof of the luxurious Marina Bay hotel in the Sands Sky Park.

According to recent reports, Katy is exercising five times a week so she is in incredible shape for her wedding to Russell Brand later this year. The Californian Gurl's wedding to the 35-year-old British comedian is getting closer and she wants to look amazing for it. Perry, 25, has worked out with celebrity trainer Harley Pasternak for the last year and is following his Five Factor Fitness programme.

He told Radaronline.com: 'Her goal is to look amazing always. She's getting in shape for everything…wedding, music videos, touring, etc. She works out as often as she can, she's a busy woman but her goal is five times a week.'

The five Factor Fitness consists of a five-phase circuit that works each part of the body for five minutes, as well as five small meals a day.

Pasternak added: 'She eats five small meals a day, each containing healthy fats, lean protein, fiber and a non-sugar drink. A typical day's diet would be an egg white omelet with a bowl of berries, an apple cinnamon smoothie, a chop salad, three-bean BBQ chips and finishing off with a seafood stir fry for dinner.'
[From The Daily Mail]
Eh, I think Katy is naturally slim, with crazy big boobs that may or may not have been purchased. I'm sure she is dieting and working out a lot – after all, she's promoting her album and preparing for a wedding – that's enough to send any woman over the dieting edge. I'm not going to bash her for it, especially since I didn't think the cover was overly Photoshopped.