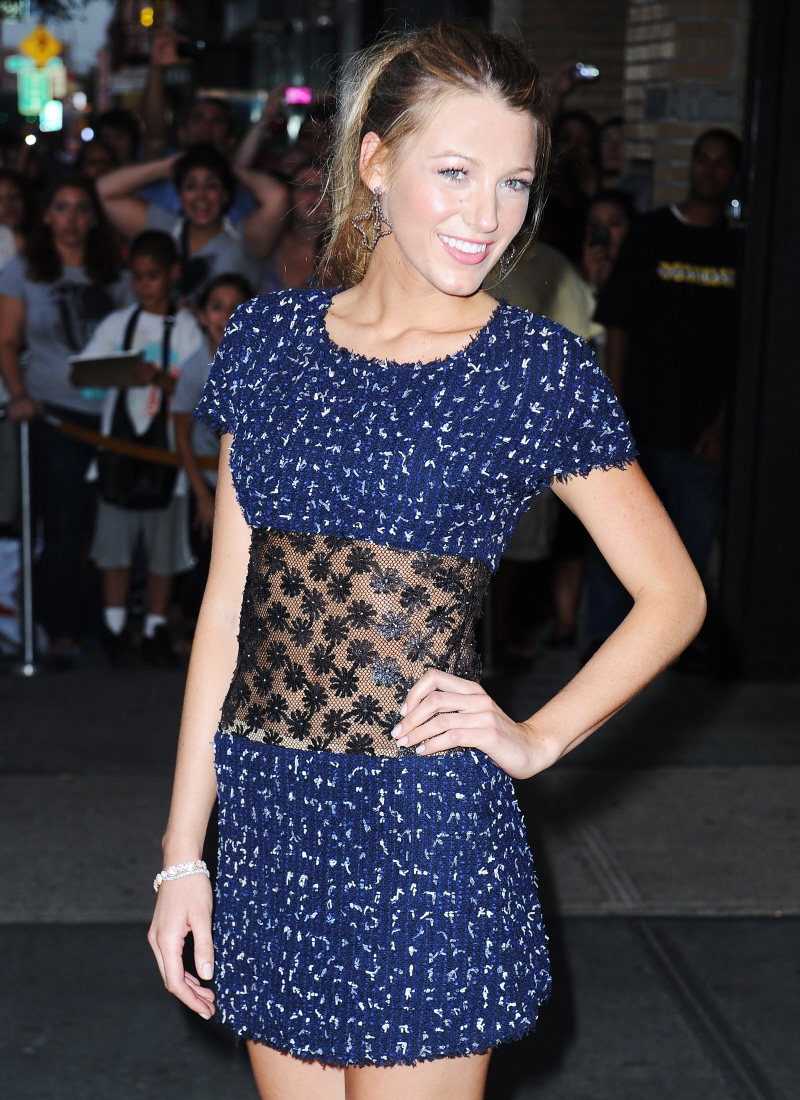 Call me crazy, but I kind of like Blake Lively. I don't think she's supremely talented, and I think there are several parts of her body that were purchased from the "blonde starlet" package, but she's grown on me over the past year. She's ambitious, she seems smart, and she's our little budding fashionista. She cares about the clothes. She cares about it a lot, and she knows that her red carpet appearances have contributed a lot to her celebrity. Almost as much as her big, fake rack and her constant pantlessness.
So will Blake ever be truly A-List? Not that she doesn't already have some sense of that: she gets more press than many of her peers, she's pals with Anna Wintour and she's got a hit television show, after all. But Blake wants to be a movie star. And she wants to be even bigger. Personally, I don't think Blake has the talent to be truly A-List, but lots of A-Listers aren't that talented, so whatever. Blake isn't going to let anything stop her from being a movie star! She'll even step on some important toes to make sure that people notice her:
Is "Green Lantern" star Blake Lively green with envy over Scarlett Johansson's career?

Just a few weeks ago, the "Gossip Girl" actress was lauding Johansson's performance as Black Widow in "Iron Man 2" and telling MTV.com that she wanted ScarJo to teach her "how to fight" for "Lantern," her first comic-book flick. But a super-connected source tells us the luscious Lively was simultaneously scheming to wrestle a plum part away from Johansson.

Our source says that soon after Gatecrasher broke the news that Johansson had verbally agreed to star in Alfonso Cuarón's ambitious sci-fi survival flick, "Gravity," Lively approached the "Children of Men" director to snag the role for herself before Johansson inked a deal.

The film, which relies heavily on computer-generated imagery, will reportedly tell the story of two astronauts – Robert Downey Jr. will play the second – who must figure out how to get back to Earth after an exploding satellite kills the other crew members on the mission.

Unfortunately for Blake, we hear Cuarón is dead set on having the Lamborghini-curved Johansson star in the 2012 3-D space thriller. So for the time being, Lively will have to content herself with the chance to act opposite Johansson's husband, Ryan Reynolds, and his scintillating six-pack. Lively plays Carol Ferris, the love interest of Green Lantern's alter ego, Hal Jordan, who eventually becomes his enemy (and, if the movie franchise follows the comic book franchise, a supervillain named Star Sapphire).

Lively certainly sounds stoked to play the role. When MTV.com asked her if she enjoyed tapping her "inner bad girl" for the part, she replied that she would "love to get to beat [Reynolds] up! Best day ever!"

The website went on to say that Lively had the "perfect woman in mind to train her" to kick Reynolds' butt: none other than Johannson. "Oh, I think she would beat him up, too! She's Black Widow!" Lively said. "She was terrific!"

That recalls a line from "Godfather II": "Keep your friends close and your enemies closer." Lively's spokeswoman did not respond to requests for comment by deadline.
[From NYDN]
Honestly, I don't think what Blake did sounds that bad. Until ScarJo signed on the dotted line, it wasn't official, and I can't fault Blake for being ambitious and pursuing a part vigorously. True, it looks kind of desperate, and I'm sure it would turn off some producers and directors, but it also shows that she really wants to work. And yes, I think there's probably a lot of competition (in Blake's mind) with ScarJo. Scar probably doesn't give a sh-t though. And after all, it's not like Scar is some amazing actress – she's really not. I think Scar is a good choice for Blake to emulate.
Header: Blake Lively on July 28, 2010. Credit: Fame.