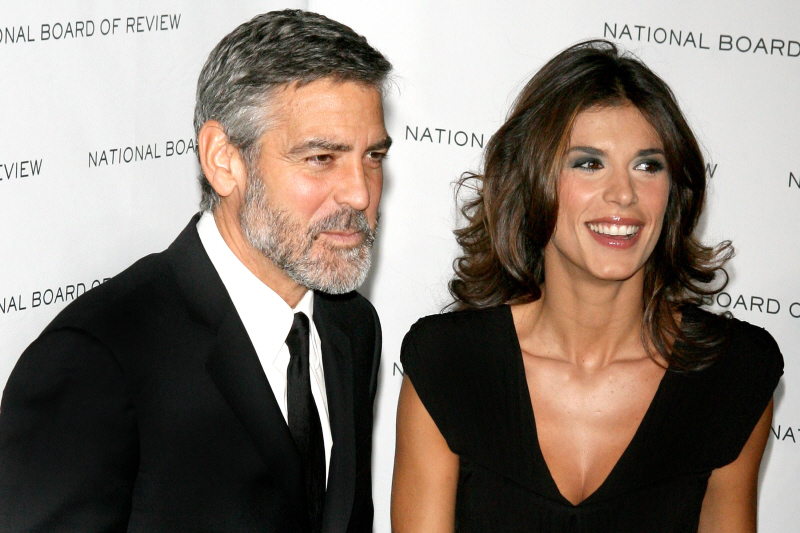 Elisabetta Canalis gave an interview to Vanity Fair Italy for the September issue. My guess is that she gave this interview before the cocaine-and-hooker scandal broke internationally, and when she thought she was going to be fulfilling another year in her alleged contract with George Clooney. I've said it before, but I don't think Eli is very bright. She and George have been dating a little more than a year – and most of his "relationships" only last that, or less. And George doesn't like a lady who is indiscreet. So why the interview? Dunno. Maybe she knows the end is coming and she wants to make sure her name is out there. Or maybe she's just dumb and doesn't know how stupid this move is. Loose lips sink cokewhores.
The tightly sealed doors shielding the relationship of George Clooney and his Italian girlfriend Elisabetta Canalis have finally been pried open.

Speaking from Clooney's Italian lakeside property Villa Oleandra to Vanity Fair for its Italian edition, Canalis calls the handsome leading man in her life supportive ("Very. He is always very close to me"), considers herself pampered ("Like I have never been before") and describes Clooney as "the person thanks to which my life has regained color. I feel good, I feel light. Like when I was 18 years old."

In fact, says the beauty, 31, "I am happy like I was when I was 18 years old. Those who criticize or invent stories about us are just jealous."

Which brings up the fact that the status of Clooney, 49, and Canalis's relationship sparked international headlines earlier this year after an Italian newspaper reported that the couple had separated. Clooney even chimed in to stem the gossip, issuing the statement: "Once again the story is made up, spread to other outlets and now denied. But don't let facts get in the way of a good story."

As Canalis now says, "It might seem a cliché, but unfortunately it is true: the Italians never support their own citizens who earn an opportunity or a recognition abroad … I don't expect to be celebrated, but neither do I expect the newspapers of our country to use as a reference point a gossip blog which is full of insults, racism and violence."

The criticism started early, given the initial skepticism that greeted their relationship. "I did not feel offended: its absurd; there is no point in giving it any importance," says Canalis. "It certainly affected me the other day to be asked by the lady at the cash register of supermarket in Alghero [her home town in Sardinia, Italy]: 'Is it true that you are his girlfriend?' "

But, she says, "Yes, it is true. We are together. I have heard of women – even famous women – that due to this [relationship] removed his photo as screensavers from their computers. Maybe I am a bit stressed. But in the end the best revenge over these jealous people is to be happy. Because that is the thing they do not forgive you for."

"I sometimes feel insecure, but if you are loved then you always feel great," she says. "[George] reassures me all the time. He is very close. I feel more embraced than ever before."

And, happy she is. "If you are loved, you always feel beautiful," says Canalis. "It's the idea of being loved like this which really surprises me. George has given color back to my life. I feel great — it's as if I am 18 years old again!"

Next up for the duo: attending the Aug. 29 Emmys, where Clooney is to receive the Bob Hope Humanitarian Award – "for all he did for those who suffered the earthquake in Haiti," says Canalis.

So, what exactly is it about George that she likes best? "Exactly this, his humanity. His ability in giving to others."
[From Us Weekly and People Magazine]
Oh GOD. Dumb, dumb move, hooker. True, if this interview took place at Clooney's Lake Como house, he probably approved of it beforehand. Gee, I wonder what kind of crazy, filthy sex act she had to perform on him to get him to agree to it? Anyway, I doubt that Clooney thought this through, but evidently Eli did. Do you see has she's setting herself up? "I don't expect to be celebrated… I did not feel offended: its absurd; there is no point in giving it any importance…" Ooh, so now she doesn't need the approval of the media? Well, George does, and as soon as she becomes a liability that he can't whitewash, Canalis is going to be gone. Trust.
By the way, People still isn't reporting that cocaine and hooker scandal.
Header: Eli and George on January 12, 2010. Credit: WENN.