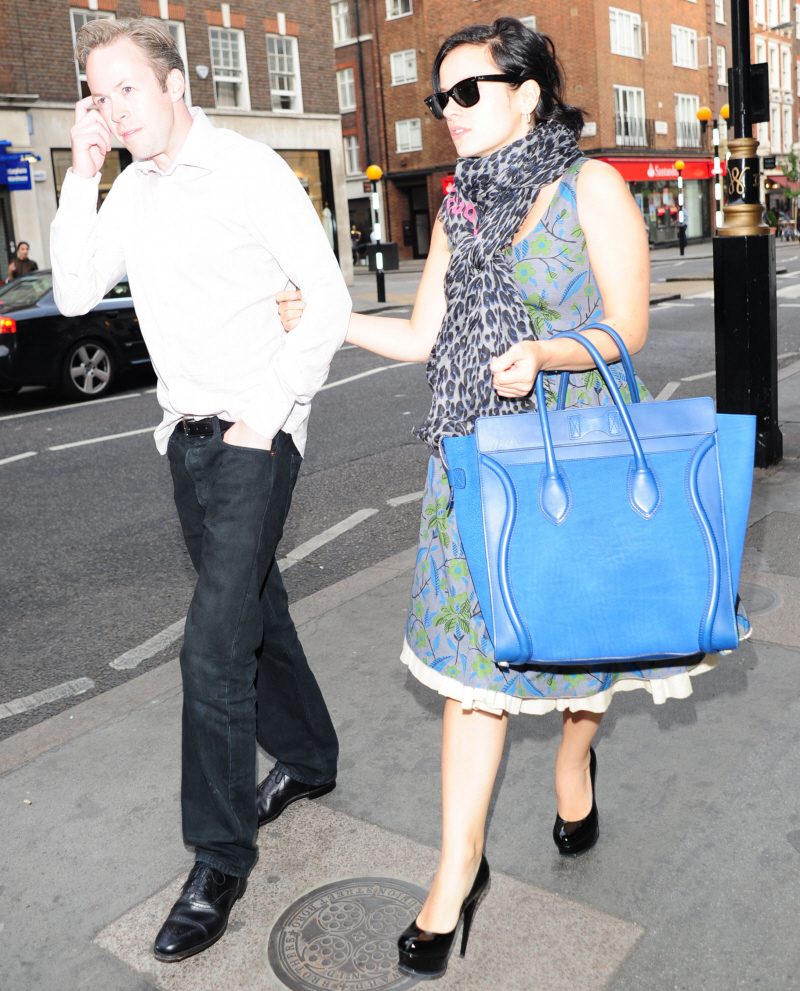 British singer Lily Allen, 25, has confirmed the rumors that she's pregnant with her boyfriend Sam Cooper's child. Allen has been wearing loose tops for months, but denied pregnancy rumors back in May. In an interview that came out in June Allen went on at length about her desire to step out of the spotlight and raise children. She also repeated for the umpteenth time that she's about to stop making music and concentrate on her home life. It looks like we now know the reason. Allen has dropped plenty of hints that she has a baby on the way but she waited until the critical three month mark to make the announcement. She sadly suffered a miscarriage in early 2008 with her then-boyfriend, Ed Simons of the Chemical Brothers.
Pop singer Lily Allen and boyfriend Sam Cooper are expecting their first child, it was revealed today.

A recent scan revealed the chart topper, 25, was three months pregnant, and her spokesperson has confirmed the happy news.

Allen said: 'It brings me great pleasure to tell you that Sam and I are expecting our first child.

She added to The Sun: 'It goes without saying that we are both absolutely delighted.'

Allen, daughter of comedian and actor Keith Allen, started dating her builder boyfriend, 32, last summer.

The couple told friends and family the news at the weekend.

Allen's spokesperson confirmed: 'Lily Allen and Sam Cooper are very happy to confirm that Lily is expecting their first child.

'Lily's professional commitments will carry on as normal, including a scheduled performance at the Big Chill this weekend.'

Melvin Benn, Director of Festival Republic, Big Chill Festival said: 'I have been in constant communication with her management on this issue for the past 2 weeks and they assure me that not only is Lily committed to playing but is very much looking forward to it.

'So am I and the 35000 fans attending the Big Chill this weekend! It could be her last for a while.'

Her pregnancy follows numerous hints that she was retiring from pop music, and comes after she cancelled a performance at the Benicassim music festival in Spain.

She was also spotted staying clear of cigarettes and alcohol at the Wireless festival last month.
[From The Daily Mail]
In another recent interview, Allen said that she wasn't too young to have children because "My mother had me when she was 23." It's important to her to be home for her children, and she explained that "Kids take up your whole life, particularly in the first two or three years. So it wouldn't be very responsible of me to commit to doing a world tour if I had a baby." Congratulations to Allen and Cooper on their upcoming arrival! Allen tweeted this photo of herself (below) holding up a copy of British tabloid The Sun announcing the news. Do you think she's going to be able to stay quiet and stop doing interviews talking about her home life and plans? I doubt it, and I predict a photo spread with her new baby in Hello!. Not that there's anything wrong with that, but it doesn't quite jibe with the things she says.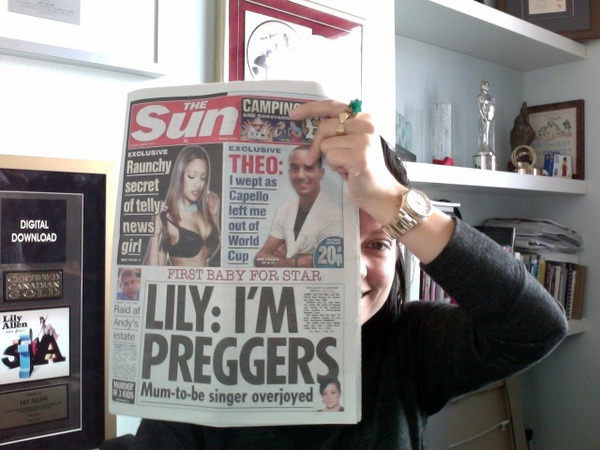 Header: Lily & Sam on July 29, 2010. Credit: WENN.