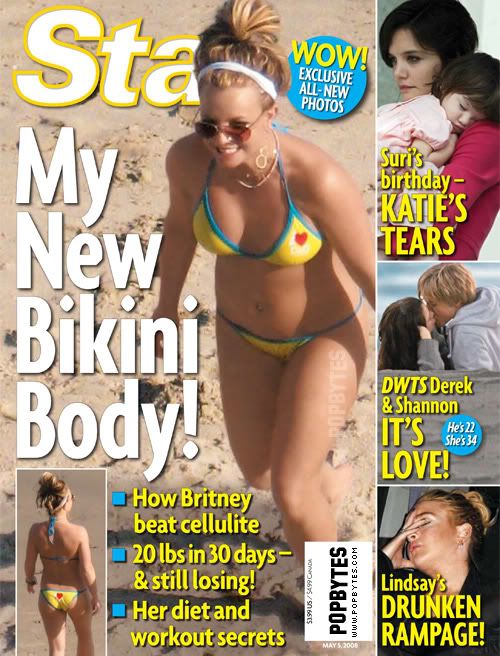 Britney Spears sells magazine covers, so the tabloids are going to exploit every little change in her life and body to the fullest extent possible. She's been working out to potentially get a gig representing the fitness chain Bally Total Fitness, and she probably has firmed up. She looks fine and I'm not bashing the girl, but she doesn't look a hell of a lot different to me.
Last week's Star says that Britney and Kevin shared a kiss during a moment when they were discussing their two boys, and the way they described it sounded so romantic and fake:
"The were discussing the boys and how they're doing," a family insider tells Star, "when she suddenly got in close and kissed Kevin. She did it because she felt so close to him at that moment."

Kevin's reaction? "He loved the kiss, of course," reveals the insider. Kevin's only concern was that they smooched right in front of Sean, 2, and Jayden, 29 months. "Should we be doing this in front of the boys?" he asked Britney, according to the insider. Her rsponse: "We're their parents, so why not?"
[From Star Magazine, print edition, April 28, 2008]
Star also claims these two talked to a therapist for two hours on April 5, but even if that happened it's just as likely that it was about their boys and not their nonexistent romantic relationship. Star claims that they're headed for a reunion, but that's highly doubtful. Britney is more likely to get super fit. I would bet that she does get in shape, but it seems a little premature to be putting her on the cover and touting her success.
Here's Britney with her dad going to a bank in Beverly Hills yesterday, thanks to WENN. Header image thanks to popbytes.