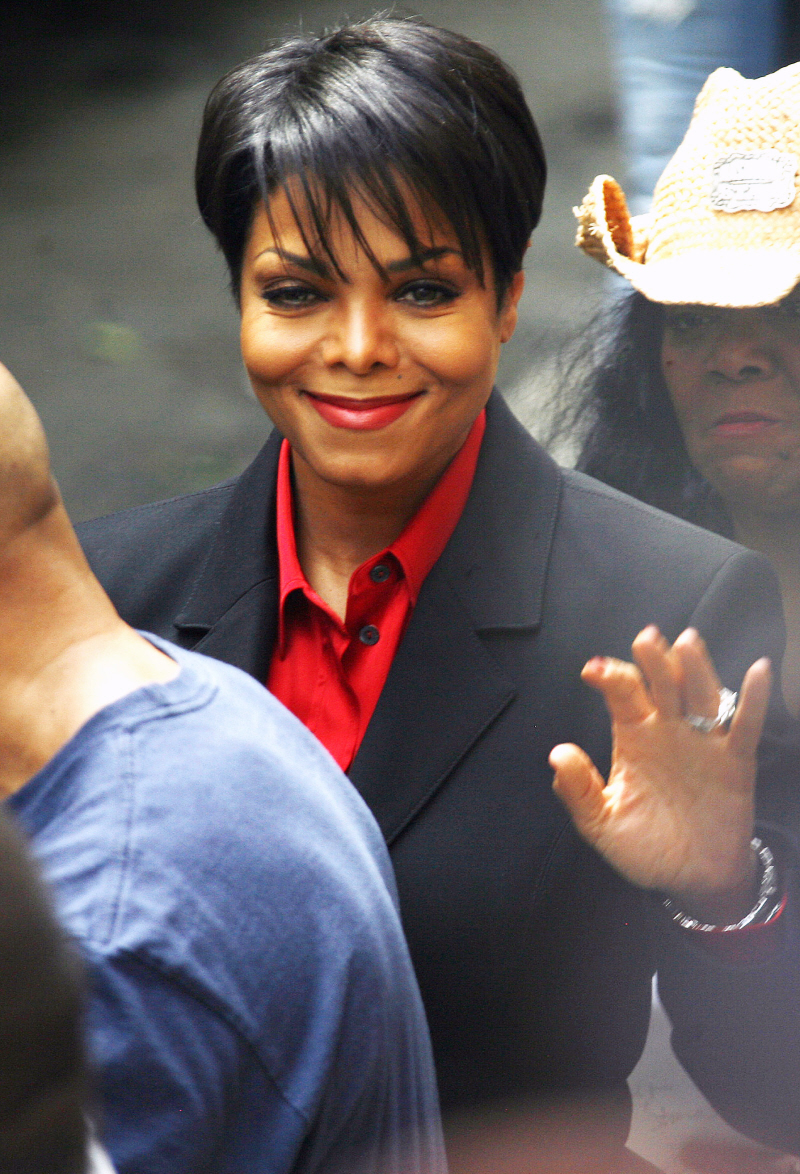 Janet Jackson has a new, younger boyfriend! His name is Wissam Al Mana, and he's Qatari, and he's almost a decade younger than Janet. According to the Enquirer, they've been dating for about seven months, although various sites only started reporting the rumor back in May and June, so who knows? Janet and Wissam apparently went on vacation together in June – The Daily Mail had the photos here. Wissam is pretty cute, actually. He's tall! Anyway, Miss Janet is in love, apparently, and so she's taking better care of her body, losing weight and even thinking about having a baby with Wissam:
Falling in love with a younger man has Janet Jackson shedding the pounds and planning for motherhood!

Janet, 44, has fallen head over heels for a wealthy Qatar businessman Wissam Al Mana, 35, whome she met when he hired her for a private gig in the Middle East, say sources.

"Wissam and Janet have been dating since late last year," revealed a source close to Janet. "He is extremely good to her, buying her jewelry, expensive designer clothes, taking her to exotic places, and filling their room with candles and white roses wherever they go. And spending time with a younger man who is handsome and fit has Janet paying closer attention to her diet. As a result, she's lost 20 pounds in the last six months!"

Janet's weight has been yo-yoing between 120 and 180 pounds for years, but now she's started a new regimen of diet and exercise, cutting carbs, fast food, desserts and more from her diet, and sticking with fish, grilled chicken and salads.

Janet and Wissam have been inseparable since Christmas, continued the source, enjoying romantic getaways in London, Paris, and most recently, Sardinia.

Janet has never been ready for children – until now, says the source.

"The fact that Janet is in super shape and has been working out daily, etc, means her body is pregnancy-ready." And since Michael's death last year, Janet has been spending more time with her niece and nephews: "Janet adores them, and now she's had the opportunity to see what it would be like to have kids of her own. She's finally ready, and a younger man like Wissam would make the perfect father. All she needs now is a proposal."
[From The National Enquirer]
Yes, the tabloids don't know how to report anything without making it sound like every woman is stuck in the 1950s, just waiting for the ring and the baby to fulfill all of our little girlish dreams. I think we should give Janet a little more credit than this, honestly. She's one of the most successful pop artists of all time, she's got a solid career as an actress, and she's already been married before, so why do we think that she will only be fulfilled by the ring and the baby? Eh. But good for her for taking better care of herself. Wissam sounds like a nice guy.
Header: Janet on March 6, 2010. Credit: WENN.