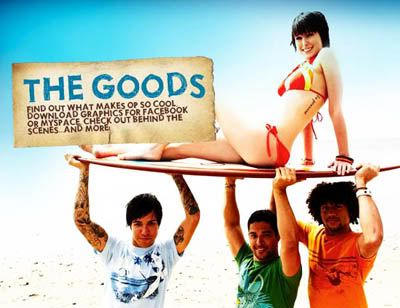 Young celebrities Rumer Willis, Pete Wentz, Wilmer Valderamma, Kristin Cavallari, Christina Milian, Josie Maran, and Corbin Bleu are starring in new ads for Op clothing, in a line that will only be available at Walmart stores.
Does that look like Rumer Willis at all to you in the header? That's one of the official photos, and unless someone told me I never would have guessed it was her. It could be the, uh, angle of the photo, but her face just doesn't look the same.
Here's part of the press release along with some behind the scenes photos from the OP Website.
The campaign has a classic Op feel with the celebrities hanging out at the beach, at a ghost-town ranch and hitting the "OPen Road" in a vintage VW bus. Bringing back Op's signature heritage pieces from the 70s, but with a younger, hipper flair, the seven celebrities showcase the collection in a
variety of upbeat, light-hearted scenes. They form a human pyramid, ride bikes and skateboards and play in the surf. The on-set chemistry was infectious and all relished in their roles as California kids on a road trip, even riding in one trailer from set to set.

Rumer Willis stated, "When you think of LA and the classic surfer beach vibe, you think of Op. The Op collection does a great job representing that lifestyle."

Pete Wentz stated, "Everyone can wear Op and its cool. Fashion should make you comfortable and that is what Op does."

In addition to the campaign, the celebrities will host a launch party in California later this spring and make personal appearances on behalf of the brand.
[PRNewsWire via Gossip Rocks]
It's not a bad idea to make a young celebrity soup and have them all represent a clothing line. I'm surprised Op is still around, though. I remember wearing those graphic t-shirts in eighth grade.
And as for Wilmer Valderrama, it's nice to see that his career is about on par with Rumer Willis. He hasn't done much since he told Howard Stern all the dirt on his female partners. He's had a few crappy films, and is also the voice of preschooler favorite "Handy Manny" on the Disney Channel. He also has his own clothing line, Calavena, which he claims is designed to help men emphasize their chests and hide their asses. It is no longer carried at Kitson.