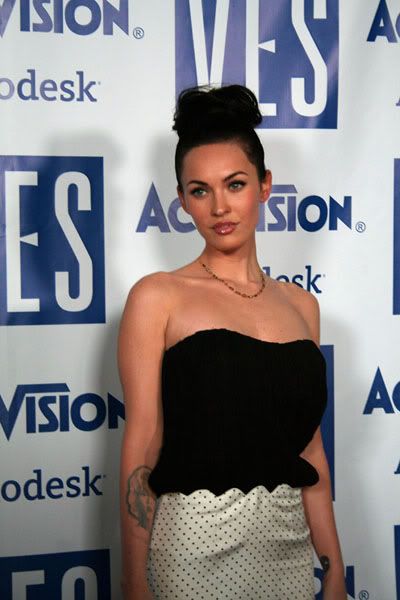 21 year-old Transformers actress Megan Fox has been named by men's publication FHM Magazine as the sexiest woman in the world. A more famous actress who she's often compared to, Angelina Jolie, came in at number 12 on FHM's list. Last years FHM's sexiest, now-pregnant Jessica Alba, was number three behind Jessica Biel. At least they polled readers for the results and didn't make an editorial judgment call while sitting around a bar one evening downing pitchers on the company credit card:
The "Transformers" co-star tops FHM's annual 100 Sexiest Women in the World poll of FHM readers. The 21-year-old model-actress beat out the likes of Angelina Jolie (No. 12), Rihanna (No. 14), Kim Kardashian (No. 17), Paris Hilton (No. 77) and last year's champion, Jessica Alba (No. 3).

Fox debuted on the annual list in 2006 at No. 68 and ranked at No. 65 in 2007. Joining her in the top 10 this year are _ in descending order _ Jessica Biel, Alba, Elisha Cuthbert, Scarlett Johansson, Emmanuelle Chriqui, Hilary Duff, Tricia Helfer, Blake Lively and Kate Beckinsale. Britney Spears came in last place at No. 100.

The women from MTV's "The Hills" duke it out on the list with Heidi Montag (No. 44) beating out Audrina Patridge (No. 80) and Lauren Conrad (No. 95). Current "Dancing with the Stars" contestant Shannon Elizabeth (No. 46) returned to the ranking after being absent last year, joining professional dancers Cheryl Burke (No. 40) and Karina Smirnoff (No. 78).

FHM said nearly 9 million votes were cast for the 14th edition of the annual poll.
[AP via Huffington Post]
These pictures of Fox are the latest that I could find and she's managed to blot out some of the sexy with a giant poof on the top of her head and a rather fug outfit. She normally looks gorgeous, though, and you can see how people would name her the sexiest despite the fact that she's not as well known as some of the women who fall below her on the list.
That's definitely not her original nose. I've included some older pictures of Fox for comparison and you can really see the difference. Her surgeon did a good job, though, and it's not like these women all naturally look like Barbie dolls. Good genes and hard work only go so far.
Megan Fox is shown on 2/10/08 at the VES Awards, and on 12/9/07 at Hollywood Life Magazine's Breakthrough of the Year Awards, thanks to WENN. Older photos from PRPhotos.