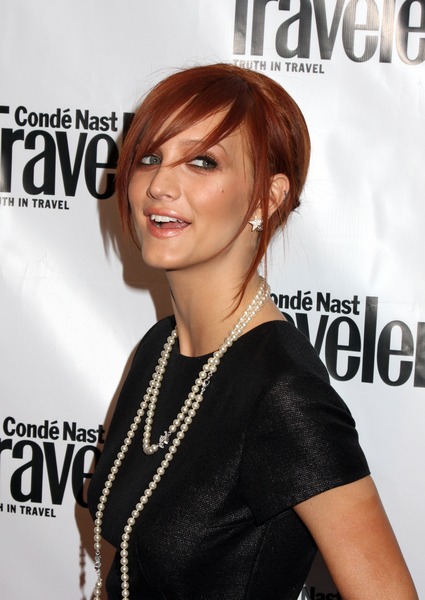 Ashlee Simpson has her story and she's sticking to it: People have been saying she's pregnant for a while, she think it's personal and she's not going to address the rumors. She's basically begging us: "Please keep talking about me and speculating as if you care about the state of my womb. And buy my new album, thanks!"
Ashlee brought her goofy laugh and lousy singing voice to the Ellen Degeneres show yesterday. She said she had an "inseparable relationship" with Pete Wentz, who she referred to as her fiance. She said she cries when she's apart from him. Ashlee also mentioned that she has "clip on" hair when Ellen asked.
When Ellen asked "Are you or are you not pregnant?" she answered:
"That has been going on [the pregnancy rumors] for quite a while, but that is definitely something that I chose personally not to discuss. Except for the fact maybe, do I look like I had 10 cheeseburgers or something? (stands up briefly) because I don't think I do."
Ellen made her promise that she would tell people she was pregnant before J.Lo did, and she pinky swore to do that.
Then Ashlee told a stupid story about how a monkey at a Costa Rican resort stole her designer stuff, name dropping all the labels the crafty primate took.
She also talked about how she worked until 4:00 in the morning with Timbaland.
Ellen busted out asking "Is it a boy or a girl" and Ashlee just laughed again. After Ashlee's performance, Ellen put her hand on her stomach jokingly.
Here are the videos.
Clip where Ashlee avoids pregnancy question:

Full interview:

Ashlee Simpson performs "Little Miss Obsessive"

Ashlee Simpson is shown at the Conde Nast Traveler Hot List Party on 4/17/08, thanks to PRPhotos.