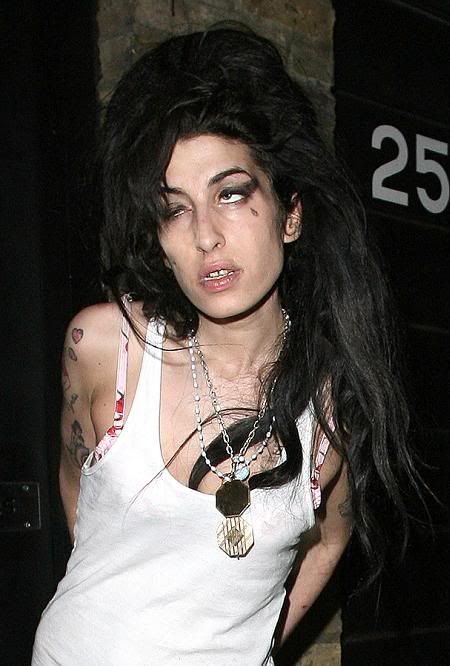 In case anyone was holding out any hope for Amy Winehouse, the Sun has a pretty sad story of how she spent her time last night that will rid you of any remaining optimism. Amy's not just back to drugs – she's back to batshit crazy. Last night – when she was on God only knows what – she trashed a bar, headbutted a man, punched a Moroccan musician in the mouth, smoked drugs on the sidewalk outside the bar, and smashed her head into a lamppost. And of course, it was all caught by paparazzi. That's one busy night. I don't know about you, but it normally take me at least a year to get all those things done. And rarely do I physically attack more than one person a night, unless I'm really, really cranky.
The junkie singer, 24, is to be quizzed by police after claims she headbutted a Good Samaritan who hailed her a cab outside a bar. Rehab star Amy, said to have punched a second victim in the face, sank to a horrific new low while high on Class A drugs. Onlookers told how the married singer also snogged a mystery fella at a nightspot and shocked punters by overturning tables and drinks. She was later seen smoking drugs in the street, walked into a lamppost, and riled a cabbie by paying only half her promised fare home.

Another man tried to get her a cab, but she reportedly thought he was trying to molest her and allegedly butted him in the face. A source said: "He said she was a snarling tigress. It's said she caused a serious amount of damage." The alleged victim told cops yesterday. The star, whose husband Blake Fielder-Civil is in jail awaiting trial on trial-fixing allegations, promised the cabbie £40 to take her home. She persuaded him to stop en route so she could buy newspapers — but staggered into the lamppost, nearly smashing her head. On arriving home, she angered the driver by paying only £20.
[From the Sun]
Lest you think this was all embellished by the Sun (a valid concern, certainly), People has confirmed with the Metropolitan Police that they're looking into the events of the night – and Winehouse may be arrested.
British police have confirmed to PEOPLE that they are investigating claims that Amy Winehouse attacked a man in a London street early Wednesday morning.

"Police are investigating an alleged assault on Chalk Farm Road at approximately 3:20 am on April 23," says a Metropolitan Police spokesman. "A 38-year-old man [contacted] Kentish Town police station and alleged a 24-year-old woman had assaulted him. No arrests have been made as yet but inquiries continue."
[From People]
Well that's quite the eventful evening, even for Miss Winehouse. Perhaps it's time she check herself into rehab, no? Or maybe jail? Can a person check herself into jail in the UK? I'm pretty sure the answer is no, but I'm equally sure if there were ever t time to make an exception, it's right now. Amy is seriously close to spending the rest of her life in a locked mental ward. It is possible to do permanent damage with several different drugs – and something tells me Amy's on them.
It might be time to re-evaluate the whole rehab idea. Obviously a person won't be successful in rehab until they want to get better – but at this point, it might be worth it just to keep Winehouse from doing any more serious damage.
Here's a few snaps from Amy's night. She's photographed holding another man's hand, along with hugging lots of various strangers. Apparently she likes to attack and hug strangers off and on. Amy also got locked out of her house and had to break in through the garage at the end of the evening. Images thanks to WENN.