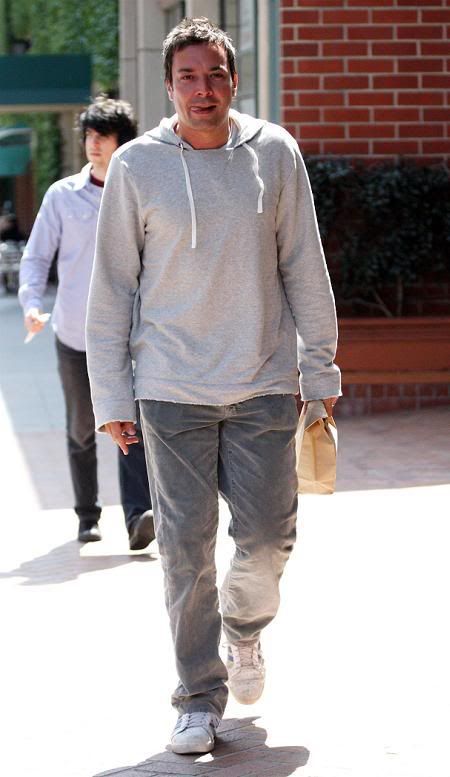 Word has it – and by "word" I mean the sorta-reliable people over at Fox News – that Jimmy Fallon will definitely replace Conan O'Brien when O'Brien moves over to host The Tonight Show in 2009. Jay Leno is being "forced" into retirement according to Fox, and a lot of gossip has been whispered over the past year or so regarding O'Brien's replacement.
The word is out among the NBC brass: As rumored and bounced around for some time, Jimmy Fallon is set to take Conan O'Brien's job as host of "Late Night" in 2009. It's a done deal. Conan, of course, will be taking over for Jay Leno, who will leave the "Tonight" show in May 2009 as part of a forced retirement.

There's much debate about letting Leno leave NBC etc., but right now let's just concentrate on Jimmy. He's the perfect successor to Conan and should have just as big an audience when he takes the reins. Fallon is one of those great underrated performers. This should be the right milieu for him. Fallon, who recently married producer Nancy Juvonen, is said to be thrilled and ready, if not a little scared, about taking Conan's desk. He still has to pick a producer and a band, among other things.
[From Fox News]
NBC is expected to make the formal announcement in mid-May when they present their Fall schedule in New York. Though NBC is "forcing" Leno into retirement, it appears he's just retiring from NBC. He may do a show on ABC that would replace Nightline and push Jimmy Kimmel's show back a half hour, into the 12:30 slot. He also may go back to promoting Doritos, which is pretty much the only thing I knew about him before he started hosting the Tonight Show.
Jimmy Fallon is pretty funny, and does have a bit of a following. But he hasn't really done much since he left Saturday Night Live in 2006. He was in an independent film called The Year of Getting to Know Us that was screened at Sundance to terrible reviews. Aside from that, it seems that he's spent the last couple years… just… chilling. Makes you wonder why NBC decided to go with him – but either way, he's pretty funny, and hopefully will thrive in his new job.
Here's Jimmy Fallon in Beverly Hills on March 20th. Images thanks to WENN.