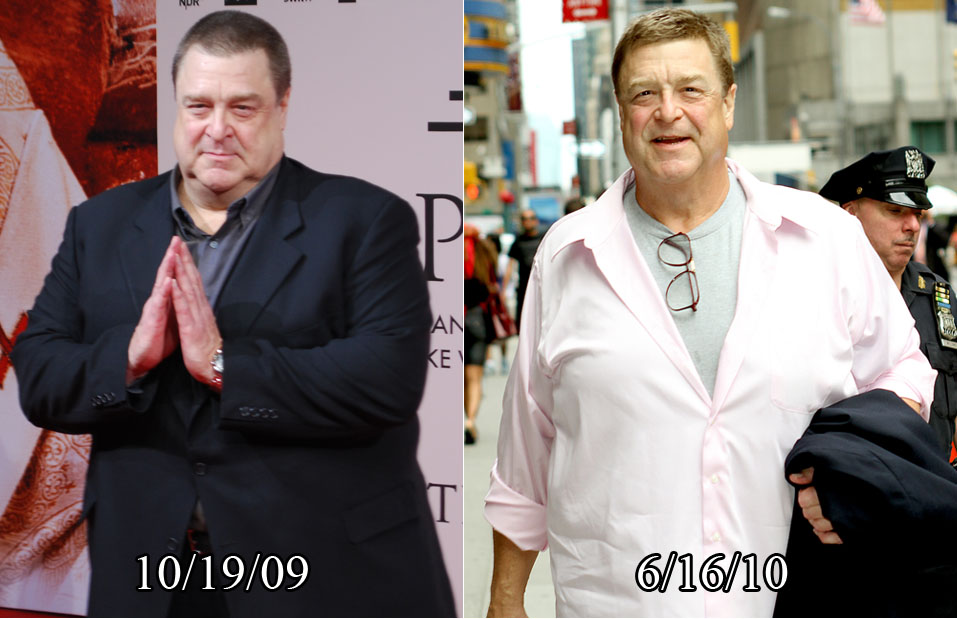 We covered John Goodman's weight loss when he appeared on the Late Show a few weeks ago and credited his much-thinner figure to giving up drinking and taking up exercise. Goodman didn't specify exactly how much weight he'd lost, but said his weight would yo-yo so much in the late 90s when he was on the Roseanne show that he'd drop around 60 pounds when the show wasn't filming in the spring and would gain it all back plus more when they started filming again throughout the fall and winter. He also said that he was 400 pounds at his top weight.
Goodman now tells People that he's lost an incredible 100 pounds through giving up sugar and exercising six days a week with a trainer. His trainer is impressed with his progress too, and calls him "very agile."
John Goodman is no longer a couch potato.

"I know it sounds sappy, but it was a waste," the 58-year-old actor tells PEOPLE. "It takes a lot of creative energy to sit on your ass and figure out what you're going to eat next … I wanted to live life better."

Mission accomplished: The Treme actor has lost more than 100 lbs. thanks to his healthy new lifestyle. He quit drinking three years ago and hired Mackie Shilstone – a health coach who has trained many athletes including tennis player Serena Williams. Now Goodman has cut sugar from his diet and works out six days a week. "I'm breaking a sweat but I'm not going nuts," he says.

He is excited about the results though, says Shilstone. "He remembers what it feels like to be extremely heavy and it's something he doesn't want again."

Now, says Shilstone, "John is very agile. When I see him running I get out of the way! He can be a different type of actor now. He can take on athletic parts."

Before Goodman becomes an action hero, though, he needs to focus on getting a new wardrobe. "I just ordered some nice slacks," he says. "I finally got them and they're too big now."
[From People]
Aw I love John Goodman and find him so funny. I'm so happy for him for losing the weight and improving his health so dramatically. Good for him for giving up drinking too! Goodman's HBO series, Treme, will return for a second season on HBO next year. It focuses on musicians and residents rebuilding their lives in New Orleans after Hurricane Katrina.