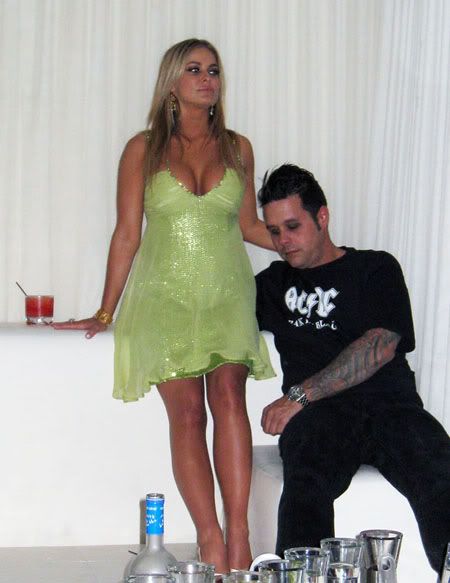 Carmen Electra's rep confirms that she's engaged to guitarist Rob Patterson from the band Korn, according to People Magazine. Patterson, 37, is said to have proposed in Las Vegas over the weekend, where they were celebrating Electra's 36th birthday. He gave her a black diamond engagement ring with white diamond accents.
It will be Electra's third marriage and Patterson's first. They've been dating less than a year, but Carmen has already tattooed Rob's initials on her body. She has the letters R and P overlaid on each other in a script font behind her left ear.
When I looked up recent photos of Electra I thought that she might also have some baby news to go with this engagement story. It's hard to tell though, and The National Enquirer says in their latest issue that she's had a lot of plastic surgery recently, including replacing her saline breast implants with silicone, having lipo on her stomach, and transferring some of that fat to her face and butt for fillers. If she's pregnant she would probably delay that type of work.
Carmen Electra and Rob Patterson are shown on 4/19/08 at her birthday party at Pure Nightclub. She is also seen on 2/7/08 at Fashion Week. Thanks to Splash News.