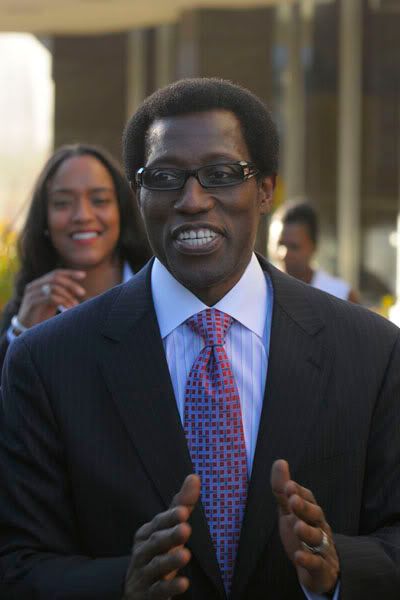 Wesley Snipes has been sentenced to three years in prison, for three misdemeanors in not filing his taxes. While his lawyer claims he was singled out because of his celebrity, reading this report on his behavior makes me think his aggressive attitude towards government employees is probably what earned him the maximum penalty.
The decision by US District Court judge William Terrell Hodges came two months after a jury convicted Snipes on three counts of willfully failing to file federal tax returns from 1999 to 2001.

The court heard yesterday that Snipes dodged $15 million (£7.5 million) in tax through a campaign in which he concealed millions offshore, falsely applied for tax refunds and bombarded the Internal Revenue Service with frivolous correspondence that threatened government employees, railed about extortion and used twisted legal interpretations to back his claim that taxation was unlawful.

"For nearly a decade, Snipes has engaged in a campaign of criminal tax conduct combining brazen defiance with insidious concealment," the prosecuting attorney, Robert O'Neill, told the court in a sentencing memorandum. "In the defendant Wesley Snipes, the court is presented with a wealthy, famous and inveterate tax scofflaw. If ever a tax offender was deserving of being held accountable to the maximum extent for his criminal wrongdoing, Snipes is that defendant."
Wesley won't go to prison immediately, but will surrender closer to his New Jersey home at a later date. This will allow him to be closer to his five children, aged between 1 and 19 years old.
The Times also says that Wesley attempted to give the judge three envelopes, containing cheques totalling $5million, but the judge could not accept them. The IRS did collect the cheques during a recess. I'm not sure if they were trying to prove that Wesley was going to pay debts, or they just weren't sure who to give the money to.
Wesley's tax advisors are also in jail, as it seems that he was given bad advice.
Wesley became a tax denier in 1999, where you are part of a movement that believes tax laws are unjust and that you shouldn't have to pay them. If you can prove that you are a sincere follower of the movement you can avoid criminal consequences, but Wesley's offshore bank accounts made the court consider him a fraud, not just someone who doesn't believe in taxes.
Picture note by Celebitchy: Wesley Snipes is shown outside of court on February 1 when he received good news – he was acquitted of tax fraud but was convicted of failure to file taxes. He's probably not that happy at this point. Thanks to Splash News for these photos.