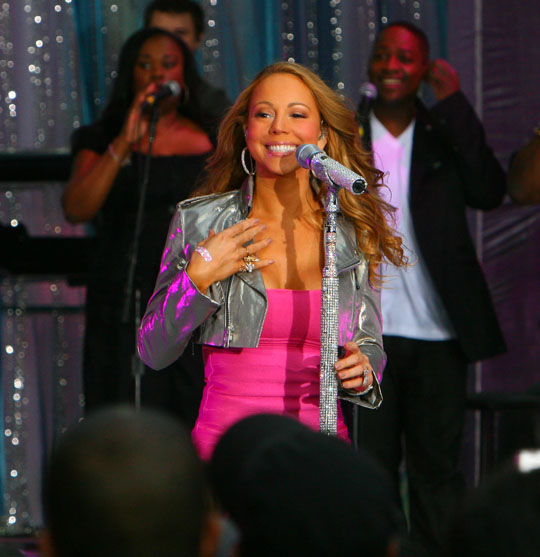 When I first read this story my jaw dropped and I didn't believe it, but apparently it's true. Mariah Carey has more number one hits than Elvis and she's a New Yorker, so the city of NY wants to pay tribute to her by lighting up the Empire State building purple, pink and white from April 25 to 27 in honor of the release of her latest album E=MC2.
Tomorrow, the Empire State Building will be purple, pink and white in honor of Mariah Carey.

According to the ESB's website, it's "Honoring a Great New Yorker: Mariah Carey Breaks Records With E=MC2 Album Release."

Yes, Carey's latest album is number one on the charts. "E=MC2" sold 463,000 copies and is her sixth number one album. And Carey's not resting on her laurels, not only will the building be swathed in Mariah Carey-approved colors, she'll be performing in Times Square tomorrow morning for Good Morning America (fans should arrive by 6 a.m.) and she'll be at the ESB tomorrow at 1 p.m.!
[From Gothamist via Gossip Rocks]
The Empire State Building is regularly lit up with different colors to honor events and causes. It will be yellow for the group "Project Sunshine" on May 5, and was green in honor of Earth Day on April 22.
Mariah Carey's E=MC2 has debuted at the top of the charts and has so far sold more copies in a week than any other album this year. It replaces Leona Lewis' CD, Spirit, which was on the top of the charts for just one week.
Not only has Carey trumped Lewis on the charts, she's also quick to point out that Lewis doesn't sound like her, and she doesn't mince words:
She said: "Honestly, there has been so many, 'This is the new her,' and I'm like, 'OK, show me the new her. Can she come and work for me and be my double?'"

"And I'm not particular talking about this girl Leona, because I only heard her once and I didn't really hear a true similarity, particularly in the style of music.

"It is what it is and critics have compared me to so many people who are not really singers, and they're certainly not writers."
[From NZ Herald]
Mariah talks about Leona Lewis but won't even acknowledge talking about her, she's so below her radar. Only Mariah gets the Empire State Building lit up for her.
Update: Here are the videos of Mariah's performances on GMA this morning via ONTD
Touch My Body (Her backup track messes up)

Bye Bye Bye (Mariah gets pissy at the beginning.)

That Chick:

Thanks to Splash News for the photo of Mariah performing on Good Morning America this morning.