I remember hearing a while ago that Mel Gibson's dad was a holocaust denier and an anti-semite, as a lot of people brought that up during the comparatively mild "Jews are responsible for all the wars in the world" DUI incident. Now that we've heard Mel scream, rant, threaten and demand beejs for many long minutes, people are focusing again on his insane 91 year-old dad, Hutton. It's safe to assume that Hutton heavily influenced his son's decision to start a traditionalist Catholic Church, which does not recognize any changes in the Catholic Church made by the second Vatican Council from 1962-1965. Hutton has a bigoted inflexible belief system to go along with his conspiracy theories. (You can read more about this guy on Wikipedia.) In a recent radio interview, the old homophobic fogey went on about his hatred of the Vatican, and said "half of the people in the Vatican are queer" including Prada-loving Pope Benedict. He also spouted some conspiracy theories about The Freemasons and their influence in the Vatican.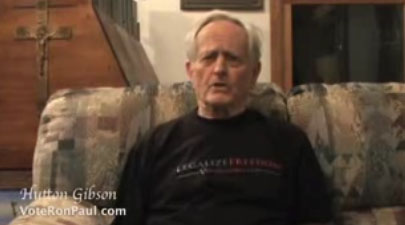 Mel Gibson's controversial father Hutton Gibson told RadarOnline.com on Monday that the Vatican is full of child molesters.

Gibson, 91, made his outrageous remarks to RadarOnline.com after giving a interview to a Liberty News Radio show in which he claimed half the Vatican was gay and that Pope Benedict was homosexual too.

Mel Gibson's father, who previously stated that he did not believe the Holocaust could have happened, told RadarOnline.com: "That is correct – I stand by my statements.

"The Vatican is full of all these child molesters and that is all there is to it."

Hutton Gibson shocked listeners on the Political Cesspool Radio Program when he claimed the Catholic Church had failed to tackle homosexuality.

He claimed that Pope Benedict was both "a homosexual" and "a slippery character" while also being involved in a Masonic conspiracy that was aiming to destroy the Catholic Church from within.

Mel Gibson's father regularly attends his son's alternative Catholic Church in Malibu and has so far not spoken about the actor's alleged abusive behavior toward his former girlfriend Oksana Grigorieva.

The father of 11 has written about Traditional Catholicism in the past and been an outspoken critic of the Catholic Church over the years.

In a 2003 interview he questioned how the Nazis had disposed of six million bodies during the Holocaust and claimed that the September 11, 2001, attacks were perpetrated by remote control.

Hutton claimed that the Catholic Church isn't fighting the repeal of Proposition 8 "because half of the people there in the Vatican are queer. They have not handled the horrible situation in the church. In fact they have fostered it because as I say they are trying to destroy the church."

When asked by hosts of The Political Cesspool if he thought Pope Benedict was a homosexual Hutton replied, "I certainly do.

"Why else would he put up with this? He was in charge of stamping it out. And he did nothing… He's a slippery character."
[From Radar Online]
You can hear Mel's dad's remarks on Radar Online. Of course the Catholic Church and the Vatican handled the child abuse scandal abhorrently, but it takes a real extremist to call the people in the Vatican "queer" and "child molesters." I guess we know where Mel got his very skewed beliefs along with his rage issues. I wonder if he's mortified that his ancient dad's incoherent thoughts are getting airtime or if he secretly co-signs his conspiracies.
In related news, the domestic violence case against Gibson is expected to be turned over to the District Attorney's office in about two weeks. Mel missed a deposition in the case on Friday. He was reportedly out of the country fishing with two of his sons.
Hutton Gibson photo is a screenshot from a video in which he endorses Ron Paul for President.