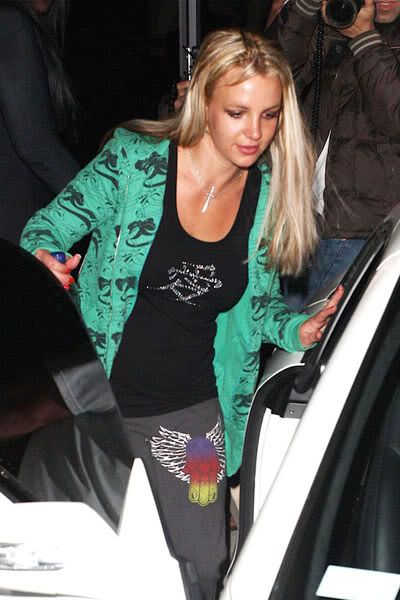 The National Enquirer has details of the diet and fitness regime Britney's on in an effort to lose 20 pounds and kick start her comeback, and I hope they have some of the details wrong it because it sounds grueling. Supposedly Britney's newly re-hired manager, Larry Rudolph, put her on the program, and this would make sense because he is also the person who is said to be brokering the deal to have her represent Bally Total Fitness.
Here are the details:
"Six small meals a day of specially prepared organic food – chicken, salads, vegetables and other low-fat fare."
Pampering treatments for encouragement and appearance such as facials, hair and skin care treatments
Working out "with a trainer, three times a day, five days a week."
"She's been ordered to do a staggering thousand stomach crunches a day on her own."
[Details and quoted text from The National Enquirer, print edition, May 5, 2008]
A thousand stomach crunches and working out three times a day? That sounds excessive, and like something that could backfire because it's too difficult. If you have attainable goals and a realistic schedule it's easier to stick with. I hope they got it wrong and she works out three to five times a week or something. You can work out nearly every day, but you should alternate cardio with strength training to give your muscles a chance to recover. Three times a day sounds like it would really wear your body down.
The Enquirer quotes a source as saying "Larry doesn't want her to be a joke when he restarts her career – and he wants her to look sexier than ever." Maybe they should work her at an easier pace. It's only been a a few months since she had that whole breakdown and she has a tendency to rebel when people force her to do things. Still, you wish her well and all. It's just doesn't seem like trying for a singing career again at this point would be the best move for her. It's not like she knows how to do much else though.
Britney is shown leaving Bally Total Fitness on 4/23/08. She looks really happy and you can see that she's lost weight.