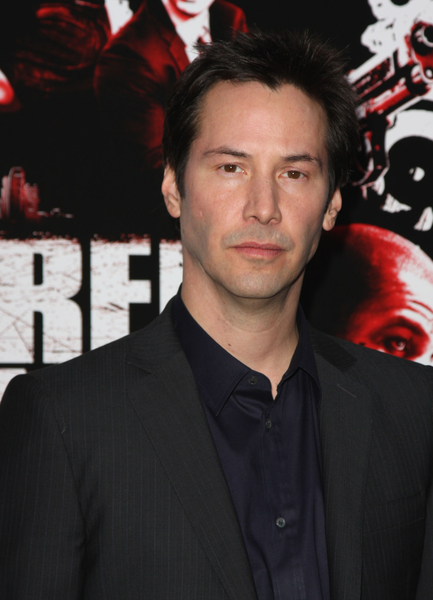 Keanu Reeves is getting hyperbaric oxygen treatments in Beverly Hills, according to a new exclusive story in The National Enquirer. They say he decided to try the treatments in order to get relief from insomnia, and he feels that it's working. Hyperbaric oxygen chambers were brought to public awareness in the 1980s when Micheal Jackson claimed that the treatment would help him live to be 150. He was largely dismissed as a quack for his claims, but hyperbaric therapy does have real medical applications and has been approved by Medicare as a reimbursable treatment for specific conditions, including carbon monoxide poisoning and wounds that won't heal.
The patient either sits in a large pressurized chamber and breathes through an oxygen mask or goes into a smaller one-person chamber that has pure oxygen. Pressurized oxygen enters the tissues of the body and is said to increase the "oxygen transport capacity of the blood." Sessions usually last for an hour.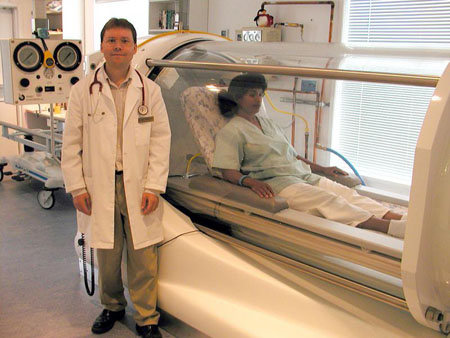 The treatment is supposed to improve overall health, and has widespread applications. A large Canadian study published in The Lancet in 2001 showed that children with cerebral palsy treated with hyperbaric oxygen therapy and pressurized air improved significantly compared to most all other conventional therapies. Studies have shown similar improvement with hyperbaric therapy for people with Multiple Sclerosis. The side effects and possible complications are similar to diving disorders, and include trapped air in the body.
Sally Kirkland is a proponent of hyperbaric oxygen treatments, and said it helped her recover from silicone poisoning from breast implants. She claims that it strengthened her immune system and helped clear the silicone from her body. She uses the same treatment center in Beverly Hills, Global Hyperbaric, that Keanu uses.
In Keanu's case "he has Global Hyperbaric bring a portable chamber to his Hollywood Hills home, and sometimes his movie set, to administer the treatment" and has received it "numerous times," according to the Enquirer. He also convinced his co-star in the film Street Kings, Naomi Harris, to give it a try.
It would take just one of my friends raving about this to get me to try it. As it is, I want to get the treatment after having read about it. Costs are prohibitive though, and can run from $100 to $200 per session. Here's a list of some hyperbaric treatment centers around the world.
Keanu Reeves is shown at the Street Kings premiere on 4/3/08, thanks to PRPhotos. He looks great at 43, but would it kill him to smile?
Inset image from Vital Path Health.
[Details and quoted text about hyperbaric therapy from Wikipedia.]