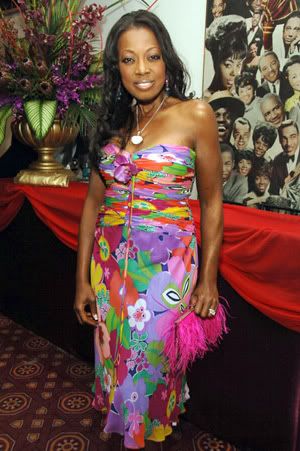 In news that's not surprising to anyone, Star Jones Reynolds tells People magazine that her contract was not renewed for her tenth season on the annoying women's talkshow, "The View," and that she she "feels" like she was fired. If they didn't renew your contract, you were fired, Star.
She announced this morning on the show that she will be leaving at the end of the season. Oh boo hoo:
"Something's been on my heart for a little bit, and after much prayer and counsel I feel like this is the right time to tell you that the show is moving in another direction for its tenth season and I will not be returning as cohost next year," she said on the air.
"That's shocking to me," interrupted Joy Behar, prompting Jones Reynolds to link hands with her cohosts.
Thanking the show's creator, Barbara Walters, "for giving me the opportunity of a lifetime," Jones Reynolds concluded by saying, "I'm not sure what the future holds, but I'm absolutely sure who holds the future."
After some discussion, Walters said, "It is a new chapter for Star. It will be a new chapter for The View in the fall."
So why is Jones Reynolds leaving? Contrary to speculation that she's unhappy about the upcoming addition of Rosie O'Donnell – one of her most vocal critics – to the show this fall, she reveals exclusively in this week's PEOPLE magazine that the departure was not her choice.
"What you don't know is that my contract was not renewed for the tenth season," she tells PEOPLE. "I feel like I was fired." She adds that she was told her contract wouldn't be renewed just days before news leaked that O'Donnell would be joining The View.
People promises to have more on the story, including Star dishing on Rosie O'Donnel's "hurtful" comments about her. O'Donnel said it was strange that Star would admit to breast lift surgery, but not own up to gastric bypass surgery that is largely rumored to have been the cause of her massive weight loss. She has also brought attention to the elephant in the room – Jones' husband Al, who always played for the other team before he hooked up with the then-huge talk show host.
Rosie O'Donnel was handpicked by Barbara Walters for a cohost gig in what was interpreted as a bid to force Jones out. Unfortunately, Jones is said to have "signed a lucrative deal with another television outlet." Who would be dumb enough to hire her?
Does anyone watch this piece of crap "The View" anymore? I have seen clips online that are so annoying I can barely sit through a couple of minutes, not to mention a whole hour. I asked my mother if anyone she knew watches it, and she knows of two people. Her 67 year-old friend who holidays in Boca watches it, but she has a high tolerance for talk shows. The other woman is over 80, also lives in Florida, and only has basic cable.
Here's a clip of Sandra Bernhardt and her nastiness vs. Star Jones and her nastiness. That little stupid conservative chick from Survivor tries to get in an ill-informed political argument with Bernhardt, and Star tries to cut to commercial. People said it was a "catfight," but it was more like an annoying argument.
Here's Star Jones and her husband, Al, at The Apollo Theatre 2006 Spring Gala on 6/19.