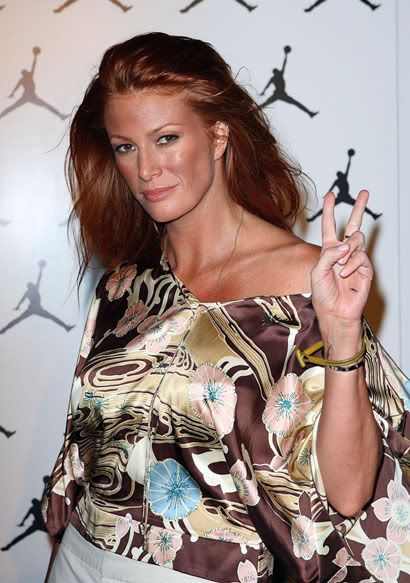 Sports Illustrated swimsuit model Angie Everhart, 38, was inexplicably engaged to pint-sized actor Joe Pesci, 65, last summer. The unlikely pair have since split, with The National Enquirer reporting that Pesci dumped Everhart and is now dating a 42 year-old woman who owns a flower shop in West Hollywood and drives a Maserati.
Maybe Everhart is broken up over it. She's definitely not being careful about calling a friend or getting a cab when she's drunk. The 5′10″ model was busted for DUI last Thursday, according to TMZ, and is out on $15,000 bail. She has a court appearance scheduled for May 15.
Getting a DUI seems to be the only way for some of these lesser-known celebrities and models to get press, so maybe we should stop reporting the news. The ability to get free publicity for bad behavior is certainly not limited to the younger set.
Joe Pesci and Angie Everhart his new girlfriend are shown outside a medical building on 4/8/08. The photo agency, WENN, credited these photos as being of Everhart but commenters are pointing out that it doesn't look like her. He sure has a type, though. Angie Everhart is shown on 1/16/08 at the Michael Jordan Celebrity Invitational.