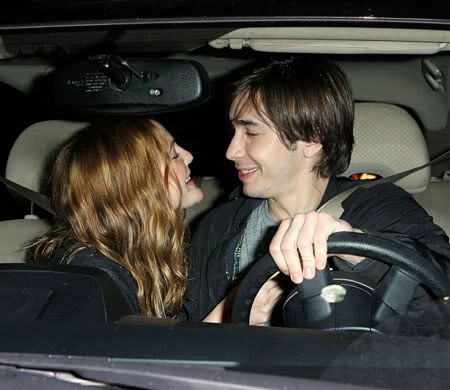 Drew Barrymore and Justin Long at Mr. Chows on 2/22/08
33 year-old twice-divorced Drew Barrymore has been dating her co-star in the upcoming film He's Just Not That Into You, Justin Long, 29, for about eight or nine months. The two went public with their relationship in January and have since not been shy about stepping out together or talking to the press about their relationship. They've been photographed kissing on the red carpet, and Drew said in the March issue of Vogue that her "cheeks hurt" from how happy she was with Justin.
Drew might just wish she held her relationship a little closer to her blushing chest when she hears this latest news – her boyfriend Justin was seen making out with another woman at a bar. It's sounds as if it could be a true story, but you have to consider the source and assume that it's possibly hearsay or fabrication:
During a boys' night out at Bar Lubitsch in West Hollywood on April 16, "Justin arrived at 12:45 a.m. and he and his four guy friends seemed really drunk," an onlooking at the club tells In Touch. "Then, all of a sudden, Justin started dirty dancing and making out with a girl." A Bar Lubitsch employee confirms, "He seemed to be having a great time."

Justin clearly wasn't acting like a guy in a committed relationship. "He did not seem embarassed about kissing that girl," says the onlooker, who adds, "Drew is much prettier." At the end of the night, Justin and the mystery brunette, who appeared to be in her 20s, left separately.
[From In Touch, print edition, May 5, 2008]
If this is true, I feel badly for Drew. It doesn't matter how drunk you are – there's no excuse for making out with someone else especially in public! At least Justin didn't leave with the girl, and maybe he got in a fight with Drew or something and was blowing off steam with his friends. Hopefully he told her the truth about what happened and made it up to her. These two are really cute together and they seem to genuinely be in love. You want them to weather what was probably the first storm in their relationship and last. Drew doesn't have the best track record with relationships to say the least, but she seems to have found a decent guy in Justin and I hope he didn't blow it.
Update: Drew and Justin are going strong, and were seen out together several times this weekend.
Photos thanks to Splash.