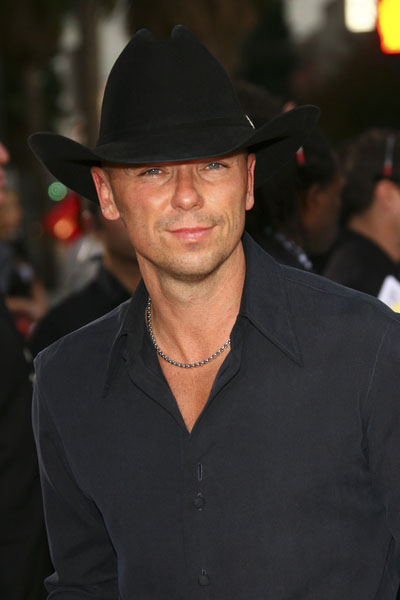 Country singer Kenny Chesney had what looked like a pretty serious injury while performing in Columbia, South Carolina on Saturday. His foot got caught in a platform that rose up when he first appeared on stage, causing him to double over in pain as he was trapped there for at least 60 seconds.
E! Online points out that it's obvious Kenny was singing live, because he stopped immediately once his poor foot got jammed. He went on to perform for over two hours for the 44,000 fans who were there. He limped throughout the night and was seen holding his knee during the show, but did not mention the accident or his pain to the crowd.
When he left the stage after what must have been a grueling performance, a physician was on hand to treat him and his foot was so swollen that his boot had to be cut off.
In a statement issued after the show, Chesney said that the adrenaline kept him going and that he did it for the fans:
"I took one look at those fans, and there was no way I wasn't going on," he said in a statement after the concert, which was part of his Poets and Pirates tour.

"Sometimes the energy and the adrenaline pull you through. They had come to rock, and there was no way I was sending them home with anything less than the best of what me and my guys came to do—put it all out there and give them back at least as good as they gave us…"

"Honestly, through the pain, through all of it, Columbia, S.C., totally got me through."
[From E! Online]
I don't know whether to admire the guy or consider him foolish for not at least taking a break from the show and getting treatment before going back on. He is certainly dedicated, and that must be part of what helped make him a country superstar in the first place.
Here's the video. It sounds like Chesney or someone else is yelling for help, but it's hard to tell.