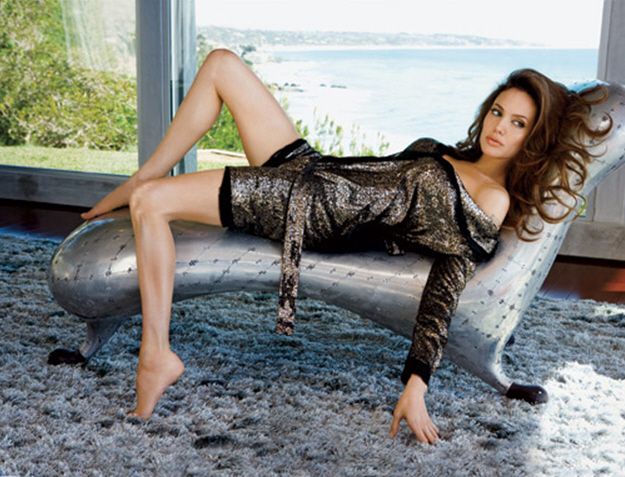 All this time, I've thought that Stylist Magazine was an American publication that I had just never run into in person, but it looks like it's a British mag. Anyway, Stylist got a decent interview with Angelina Jolie, probably to promote the British release of Salt. The cover shot is recycled from Angelina's 2008 Vanity Fair photo shoot, and parts of the interview sound recycled from Angelina's interview last week, which was attributed to Grazia magazine, that I thought sounded kind of bullsh-tty. That being said, I think this interview is for real: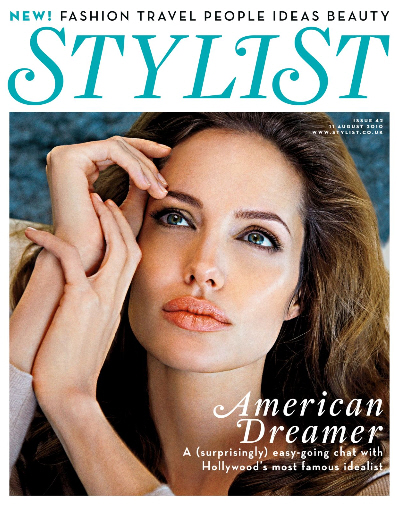 In a new interview with British mag Stylist, Angelina Jolie once again defends her daughter's buzzed-about tomboy style.

"It's not my choice," Jolie, 35, claims of her and Brad Pitt's eldest biological child, who favors polos and pants over frilly dresses.

"I have a very strong willed four-year-old girl who tells me what she wants to wear and I let her be who she is," the Salt actress says. "I think children should wear what they want and express themselves, so we give them different options of things."

As an example, Jolie mentions Zahara, her adopted 5-year-old daughter: "Zahara dresses very much like a girl, very pink and flowery, very feminine."

The mother of six also gives new details on the origins of Shiloh's iconic pixie haircut.

"Shiloh cried and said, 'Please cut my hair off, I don't want to have long hair.'" Jolie recounts.

"I'm not going to leave it long because somebody thinks I should," she says "I want to do what's in her head and what's in her heart is to dress like that. I think it's beautiful."

Another controversial topic? The beginning of her romance with Pitt — which most date to the set of their 2005 flick, Mr. and Mrs. Smith, when Pitt was still married to Jennifer Aniston.

"It didn't begin on the film set," she insists of the romance. "We became friends on the film set, but [the relationship] began after."

How did she know Pitt, now 46, was the one? "At a certain age, having gone through enough experiences, I think you know. It wasn't courageous, it was more comforting to have found my family."

And now that they have such a large brood of kids — which also includes sons Maddox, 8, Pax, 6, and 2-year-old twins Vivienne and Knox — they have to be strategic about their alone time.

"[We] have to schedule it," she confides. "We don't normally have anyone spend the night with our family, so once every week or two weeks we'll ask somebody to spend the night, so we can go and be alone together. We just go to another part of the house and lock the door."

Angelina Jolie also talks meditation. She confesses to being a highly-strung person and although it's been suggested to her to take up meditation she gets her tranquil moments from playing with her kids. Angelina said: "I find meditation in sitting on the floor with the kids colouring for an hour, or going on the trampoline. When I wake up in the morning, I jump out of bed – partly because I have a lot of children. And I pace when I'm on the phone. It's actually very hard for me to calm down."
[From Stylist Mag, via Us Weekly, Bild]
I wonder how Empress Z ended up such a girly-girl and Shiloh ended up such a little tomboy? You would think that Shi would try to emulate Z, right? But maybe Shiloh doesn't realize that Z is going to be ruler of all. Not yet.
Also: yeah, Angelina denied hooking up with Brad while they were working together. Have at it.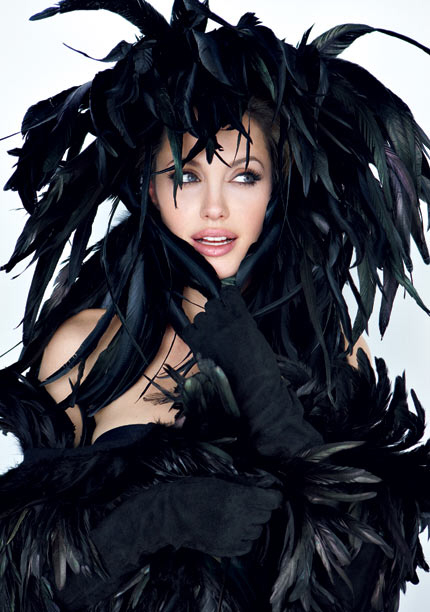 Cover courtesy of Stylist Twitter. Additional pics courtesy of Vanity Fair.