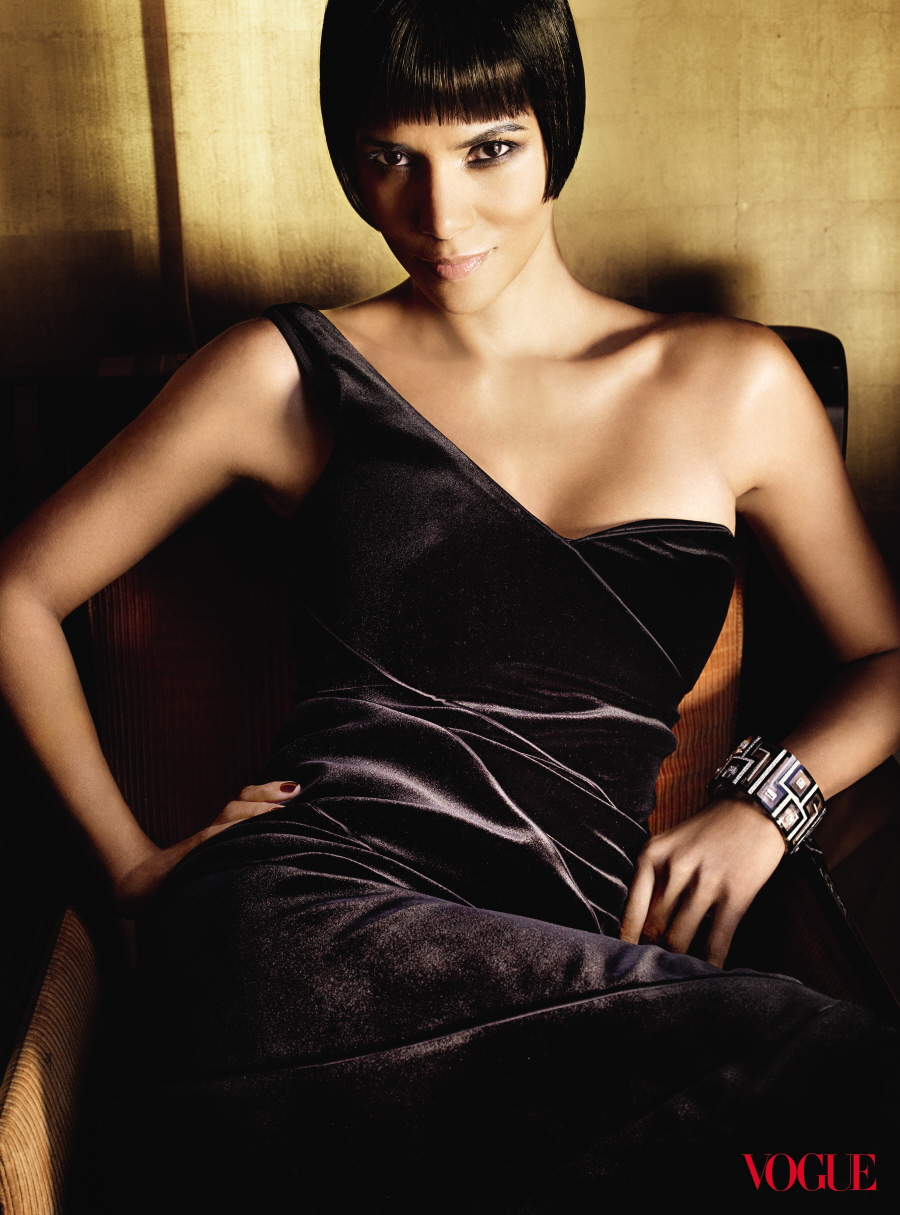 Yesterday, I only covered the cover of the September issue of Vogue, with cover girl Halle Berry, plus some advance excerpts courtesy of USA Today. Finally, the full interview was released (read it here at Vogue), plus we were sent these beautiful hi-res images from the Mario Testino shoot. I actually love the shoot, although I do think Halle is looking a bit overly Photoshopped in a couple. She's a gorgeous woman with gorgeous, nearly-flawless skin, but it doesn't looks that untouchably alien-like beautiful, for real. Have you ever heard the theory that a person's favorite season is the season they were born into? I believe that – I was born in September, and my favorite time of the year is early fall. So I love that Vogue went for deep, autumnal colors, instead of the overly bleached images they were using for the summer months (Gwyneth Paltrow's photo shoot made my eyes twitch with all of the whiteness).
Anyway, the interview: most of Halle's most tabloid-friendly quotes were covered yesterday, but there were a some more choice bits that I wanted to show you. Halle is not doing this profile to promote a movie. She spends the bulk of the article discussing her work with The Jenesse Center, which is a charity that deals with abused women and children. Halle has been working with the center for ten years. I'll admit, Halle is extremely genuine and forthright in this piece, and she brought tears to my eyes.
Does Halle have any regrets about over-sharing in the past? "No," she says. "I don't regret it. When you share like that, it helps a lot of people, it connects you to a lot of people, but I do think I should have the right to move on."

She works out with a personal trainer five days a week: Berry works out so much because she has diabetes, and she weaned herself off insulin a while back. "I do not love to work out," she says, "but if I stick to exercising every day and put the right things in my mouth, then my diabetes just stays in check." She probably sees Peterson more than most anyone else these days; they live on the same street in Beverly Hills, and they are also in the process of developing a unisex sports drink for GNC, something "sustainable and light and not a gimmick," she says.

Halle explaining her work with The Jenesse Center in South L.A.: The Jenesse Center provides, among other things, transitional housing—safe houses—for women and their children when they finally leave their abusive husbands or boyfriends. How did you get involved? I ask. It turns out that after her infamous car accident of 2000, in which she inexplicably left the scene, her sentence was, she says, "a $15,000 fine, three years' probation, and 250 hours" of community service. "They gave me a list of charities that I could choose from. I searched my heart for what would be meaningful to me. Domestic violence is important to me because I grew up with it; my mother was a victim of domestic violence. And I saw the Jenesse Center, the oldest domestic-violence center in South L.A., and I thought, That's where I want to go." What she didn't know was that she would wind up staying for nearly ten years. "Outside of being the mother of Nahla," she says, "it's the most meaningful thing that I do."

Halle has a lot of art pieces in her home: There is also surprising art: mostly modern painting and sculpture, a lot of it of a sexual nature. In her living room there is a very tall statue by Curt Brill of a naked woman looking out to sea. "I love the naked female form," she says. "I just feel like that's the most empowered position you can be in. She is standing tall in all her nakedness, and she is just commanding the room. Everything revolves around her in the house. I love it."

Halle takes the reporter to "the 'hood": The next morning, Berry picks me up and we drive to the Jenesse Center. When I ask where we are, she says, "We in the 'hood," and then adds, "This is the good part of the 'hood. There are much scarier 'hoods." We drive past the Debbie Allen dance studios; a few blocks later, on Crenshaw Boulevard, Berry points out a big modern building and says, "Everybody in town goes to that church," by which she means Denzel Washington, Magic Johnson, and the rest of churchgoing black Hollywood. When I mention a gay black nightclub not far from here, Berry lights up. "I go there with Cliff on Halloween." (Berry dresses up every year in a way that I am not allowed to describe except to say that her costume completely obscures her face. "It's one of the funniest things we do," she says. "Total anonymity. I just let it all go, get wild, lose my mind. It's great.") It is clear, in other words, that while Berry may live in Beverly Hills and Malibu, she is entirely at home in this part of town.

This part made me cry: When we walk into the building, there are more hugs and good vibes from staffers and women and children as Berry shows me her pride and joy: a small one-bedroom apartment that she has, with the help of some friends, renovated into a playroom, a place where children can get new clothes, make art, and have therapy—as she did when she was a ten-year-old coping with an abusive, alcoholic father. The space is beautiful. It is called Nahla's World. On a wall near the door there are two tiny handprints in colored paint—her daughter's signature. "The last day we were here when we were finishing up this room," Berry says, "Nahla came and spent the whole day playing outside with all these kids for hours. She cried when I had to take her home." Berry and her team have pledged to renovate fifteen apartments by next April. "Because of my mother's and my experience, I understand fundamentally what these women and kids are going through. And I think that's why my heart is so in it."

On Gabriel Aubry: "By the time [the breakup] hit the papers—full of rumors and lies, with people having to make up problems between us—Gabriel and I had long dealt with it. We were done. And we were on a good foot, and we had decided what we were going to do for Nahla, and we were able to say, 'This will pass.' [And it did…] In two weeks! Because there was no truth to any of it. There is no discord, there is no fighting. So it came and went. Now we are back to how it was before: living apart, raising our daughter… We have always been friends, we're still friends, we love each other very much, and we both share the love of our lives. And we are both 100 percent committed to being the best parents we can be. And while it was not a love connection for us, he was absolutely the right person to have this child with because she is going to have an amazing father. And that was really important to me. We'll make sure we always do what is right for her and put her first. And she will see as she grows that we have a lot of love for each other."

Halle's wisdom: "It's about accepting who we really are, not who we want to be. As much as I have always wanted to be in this committed relationship and have the picket fence and grow old with the same person, I'm coming to terms with: Maybe that's just not who I am." What is clear is that she has found "the love of her life" with her daughter. "If anything was missing, it was that."
[From Vogue]
See? It's a good piece. I like Halle so much more after reading this, and I already liked her. Her work with The Jenesse Center is admirable, and I like how she discusses involving Nahla in the work, and that whole part about the kids' apartment just made me cry a little. Okay, maybe I'm PMSing and hyper-emotional. But it's a good piece, right?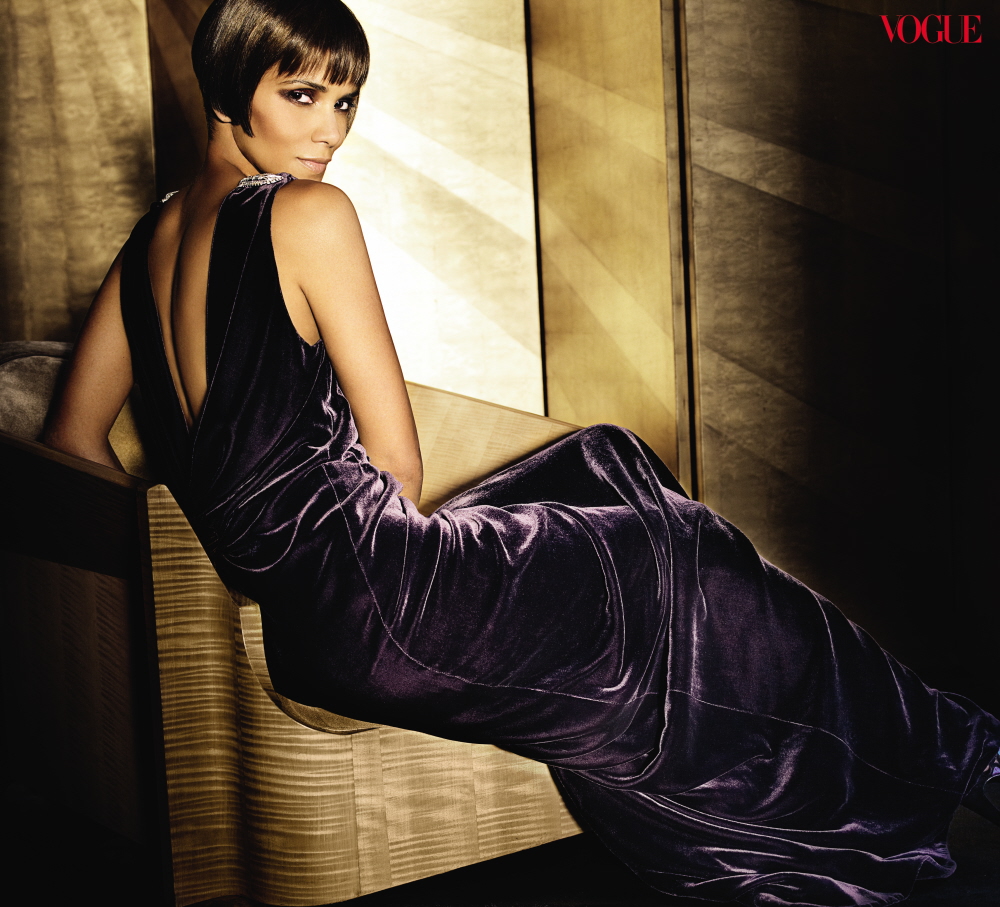 Photos courtesy of Mario Testino/Vogue, at Vogue online.