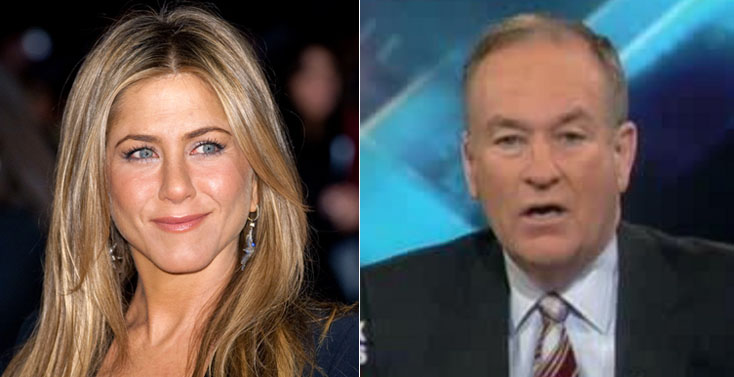 Earlier this week, Bill O'Reilly reminded us of Dan Quayle's 1992 rant against Murphy Brown when he slammed Jennifer Aniston for advocating single parenthood in remarks she made while promoting her upcoming in vitro comedy, The Switch. Aniston's statement that O'Reilly took offense to was, in part, that "Women are realizing it more and more knowing that they don't have to settle with a man just to have that child." O'Reilly countered that we do need men, and for more than just conception. "Jennifer Aniston can hire a battery of people to help her. But she can't hire a dad. Dads bring a psychology to children that in this society is under emphasized. Men get hosed all day long in the parental arena."
Then, Keith Olbermann went after O'Reilly personally and claimed that O'Reilly grew up with an abusive father, as if that made him incapable of holding the opinion that single parent households aren't beneficial to children.
Jennifer Aniston spoke to People Magazine and had some funny remarks to counter O'Reilly's criticism. She stood by her original statement while agreeing with the opinion that dual parent families are ideal. I'm sure she had help with this, but I really admire the way she phrased her statement. It's so well worded and pokes fun at O'Reilly in a playful way.
Jennifer Aniston has a few choice words for Bill O'Reilly, who criticized her recent comments about single motherhood.

"Of course, the ideal scenario for parenting is obviously two parents of a mature age. Parenting is one of the hardest jobs on earth," Aniston tells PEOPLE exclusively. "And, of course, many women dream of finding Prince Charming (with fatherly instincts), but for those who've not yet found their Bill O'Reilly, I'm just glad science has provided a few other options."

Aniston, who is currently starring in The Switch, a film about a woman who gets pregnant using a sperm donor, told reporters recently that women no longer have to wait for the perfect guy to start a family.

"Women are realizing it more and more, knowing that they don't have to settle with a man just to have that child," the actress told reporters. "Love is love and family is what is around you and who is in your immediate sphere."

Last week, on his Fox News show, The O'Reilly Factor, the host called the actress's comments "destructive to our society," and accused her of "diminishing the role of the dad."

"Dads bring a psychology to children that is in this society, I believe, under-emphasized," he said. "I think men get hosed all day long in the parental arena."
[From People]
Maybe now we can put this whole controversy to rest. I never quite got the outrage over this issue in the first place, because it just sounded like a throwaway comment that Aniston made that related to her character's experience on film. I'm not a divorced dad getting shafted in a custody battle either, though. I looked up Bill O'Reilly to see if that might be where his rage is coming from, but he's still married to his wife of 14 years and they have two children together. He did settle a sexual harassment lawsuit a few years ago and there were allegations of some pretty disgusting things he supposedly said to a former female producer on his show. Not that it's relevant to this discussion, but it did come up when I did a search to learn more about his home situation.
Header photo of Aniston from 3/11/10. O'Reilly is shown on 5/8/08. Credit: PRPhotos