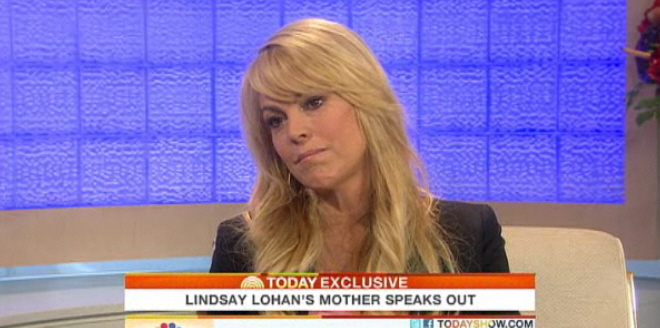 Dina Lohan was interviewed by Matt Lauer this morning on Today, and it was must-see epic train wreck television. I would have given Matt a thousand dollars to ask about Carvel cakes, but unfortunately the subject at hand was Lindsay. After Judge Marsha Revel recused herself from the case two days ago, Dina seems to think that Lindsay now doesn't have any problems left. It seems that Lindsay's only problem in the world was Mean Old Judge Revel, who was, in Dina's words, "Fired, basically." Because Dina can't wrap her brain around the idea that Revel recused herself. Here's the video and some of my haphazard transcribing:
Visit msnbc.com for breaking news, world news, and news about the economy
Dina on Judge Marsha Revel: "I think she went overboard and played serious hardball with Lindsay."
On whether Lindsay "deserved time in jail": "No, not for this particular offense. She violated – actually, didn't violate but did – uh, she violated… she was supposed to be… she was in for missing a couple of classes that she made up and she was working at the time and the judge went overboard and put her in serious lockdown for two weeks with murderers."
Lauer asks Dina what it was like for Lindsay behind bars, and this is her response: "I actually visited her behind glass and Lindsay missed the driving classes that she made up before she went to court and now the judge is being taken off the case and it's a really serious offense for a judge. She went against the district attorney."
*Sidenote: Gee, I wonder where Lindsay gets her persecution and cracked-out martyr complex, hm?
Dina on the alleged special treatment Lindsay got in jail: "DO YOU READ TMZ?"
Ha!
Then she goes on to say that the "lockdown" was just "a safety precaution."
Dina on Lindsay potentially getting out of rehab earlier than her 90-day sentence: "Because the judge recused herself, she would have been, she went against the district attorney. Yeah, it will be [a shorter time]."
On Lindsay's "spirits": "She's great, she's been through a lot. The judge played hardball. She was in with alleged murderers and she became friends with a lot of them. Lindsay's rolled with the punches and she's doing wonderfully."
On whether Lindsay had jail "coming to her" as Matt says: "I think that's all propaganda! And what people are reading, as you know, you're in the business of entertainment, it's pre-orchestrated and you're reading things are not fact."
Oh, and Lindsay is going to move to NYC after rehab. Right.
Dina also denies that Lindsay has been in rehab three other times, and that's a whole thing, whatever. Dina is such a f-cking delusional bitch. My favorite part might be when Lauer comes close to calling Dina an enabler, Dina repeats the "THAT'S PROPAGANDA" line. "That's propaganda" might be better than "that's so tacky." Also: is Dina on something? Oh, and I love when Dina talks about how she was "in the business" before her kids.