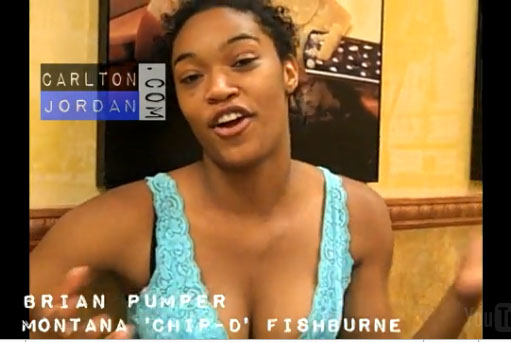 In her many interviews publicizing the release of her hardcore sex tape, 18 year-old Montana Fishburne has insisted that her arrest last year was for trespassing, not for solicitation/prostitution as has been reported. The National Enquirer spoke to Montana's lawyer and has the official court record which proves that she plead guilty to prostitution, not trespassing as she tried to claim. What's more is that by making a porn film Montana is violating her probation and faces jail time, her former lawyer confirms. To make matters worse, the Enquirer also has quotes from another hooker who worked with Montana and told them all about her situation, including the fact that the guy she says is her boyfriend is also her pimp and that he allegedly forced her into it.
CSI star Laurence Fishburne's teenage daughter faces jail as a result of her headline-making porn film, the Enquirer has leanred exclusively.

The X-rated movie, which outraged 18-year-old Montana Fishburne's famous father, violates the terms of her probation for a prostitution conviction she had last year, according to court papers.

Montana was arrested in Los Angeles on Nov. 4, 2009, and pleaded guilty to prostitution. As part of her sentence of two years' probation, she was banned from having sex for money.

Montana's attorney, Sammy Weiss, told The Enquirer that at the time of her arrest, Montana pled guilty to the prostitution charges to avoid serving time behind bars…

For violating those terms by making the porn movie, Weiss says his client "could get up to six months in jail."

According to a fellow streetwalker and friend of Motnana's named "Nene," Montana had been hooking, or "on the stroll," on the streets of LA for more than a year before her arrest, having been placed there by her pimp, Jeremy "J Pipes" greene.

Greene is also reportedly the man who arranged for her to perform in a shocking new porn film from Vivid Entertainment with an actor named Brian Pumper.

"Montana told me her father wasn't giving her any money anymore," her friend Nene said in an interview.

"He took her car away from her. She says she texts him, but he won't text her back and won't talk with her.

"She's living with Jeremy, and his family said she can't live there for free, so she started doing this for him.

"Jeremy started her on the stroll and then talked her into doing porn.

"I think she's basically a prostitute now."
[From The National Enquirer, print edition, August 23, 2010]
The quotes from "Nene" are in direct contrast to Montana's insistence that this is all her idea and is some kind of natural progression from losing her virginity at 16. This makes it sound like Montana had no other choice and was pushed into it due to economic straits and a controlling boyfriend.
Now that Montana has made a sex tape and has had a taste of fame "J Pipes" can charge a hell of a lot more for sex with her. I hate to put it that way, but it's probably true. We have a commenter who goes by "CH" and claims to have formerly worked as a technician in the porn industry. CH writes that "unless you are a star or even so, the real money is made with prostitution. In fact, most performers use movies only to be more recognizable and increase their prices as escorts girls/boys." (I can't verify whether that is accurate or not, but it came to mind when I read this story.)
This girl is going to turn 19 this year, but she's still 18 at this point. I don't care how worldly and positive she seems, it just bothers me so much that a 17 and now 18 year-old girl is selling her body. It doesn't sound like it was her idea, either, although she's saying differently when it comes to her porn career.
Here's Montana with her high-looking pimp/boyfriend. The image below is a screenshot from this video.