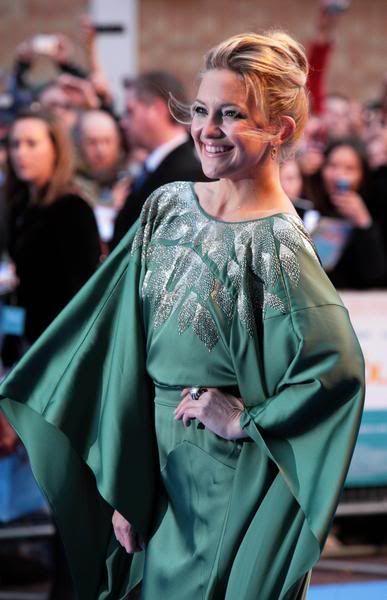 People Magazine used to have fifty "Most Beautiful People" every year. Apparently the population of Hollywood has just gotten too damn attractive, because now we're up to 100. The thing is, there aren't 100 hot people in Hollywood that haven't been in the magazine before, so People ends up recycling the same people every couple of years, and that gets a little dull. Yes we know Clooney and Pitt are hot, can we move on please? There's really nothing new to say about their hotness.
This year, the most beautiful woman is Kate Hudson. I don't really see it though. She's certainly not ugly – she's got a nice face and a great body. But I don't think there's anything unusually gorgeous about her. And after staring at the People cover long enough, I've decided that her jaw line leaves something to be desired.
Heading the list of People's 100 Most Beautiful People is a 29-year-old mother remarkably short on her beauty sleep – for which she lovingly credits her active 4-year-old son. The beautiful, sleep-deprived mom? Kate Hudson, People reveals in its special issue, which goes on sale Friday.

Was she always such a head-turner? Admits the actress: "I was a tomboy. I had three brothers. I was the girl with the dress on that always came back in the house filthy with scrapes and bruises. But I was always very girly. I had to be able to twirl so that my underwear showed."

Her best time for looking good, she says, comes "at the end of the night, when everything's soaked in and I'm still up. I like the leftover makeup in the morning. You've got to wash your face but there's always the leftover eye makeup, I love that."
[From People]
Alright, so some deep thoughts from Kate Hudson there. According to People, Kate will also be talking about Owen Wilson in the article – which isn't on newsstands until Friday. Something tells me whatever revealing tidbit they have will be something along the lines of, "He's wonderful/we're just really great friends."
E! gives a breakdown of some of the more interesting stats on some of the Most Beautiful.
* Age range: 67-year-old Raquel Welch tops the list in one direction, while 15-year-old Miley Cyrus, who's probably preparing an apology as we speak for being so darn lovely, caps the other side
* Making her record 12th appearance on the list: Halle Berry
* Musicians/singers: 18
* Athletes: 5
* Career models: 1 (Go Iman!)
* Hot by association: George Clooney girlfriend Sarah Larson; Sean Combs ex Kim Porter; Jessica Alba baby daddy Cash Warren; rock-and-roll muses Pattie Boyd (George Harrison and Eric Clapton), Marisol Thomas (hubby Rob Thomas) and Vanessa Marcil (Prince's "Most Beautiful" girl in the world)
* Made even hotter because of how funny they are: Tina Fey, Sarah Silverman, Ellen Page, Isla Fisher, Heidi Montag (although that last one might be unintentional)
* People singled out just for their neck tattoos: 12, including Kelly Osbourne and Pink
[From E! News]
I didn't realize neck tattoos were such a big things – certainly not to the point of twelve percent of the Most Beautiful People having them. Maybe that's what I'm missing. Alright, well I'm off to the tattoo parlor, where I'll be reading about beautiful people and feeling really, really inadequate.
Here's Kate Hudson with Matthew McConaughey at the "Fool's Gold" London premiere on April 10th. She's definitely cute and spunky, I'll give her that. Images thanks to PR Photos.