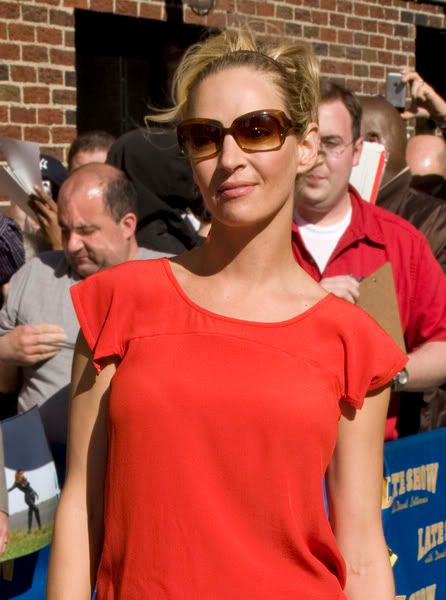 Uma Thurman's parents and employees have been testifying this week in Manhattan State Supreme Court in the case against her stalker, Jack Jordan. Jordan is a diagnosed as schizophrenic with bipolar disorder who stalked and harassed Thurman and her family members from early 2005 – September 2007. He was arrested this past October. Both Thurman's housekeeper Dorota Janas and former personal assistant Samara Koffler testified that Jordan would hang out on the stoop her Greenwich Village home, ring the doorbell multiple times a day, and leave creepy letters.
Thurman's housekeeper Dorota Janas testified on the second day of Jack Jordan's trial that he rang the bell at the actress' Greenwich Village town house at least twice a day for at least 10 days last summer…Janas, testifying through a Polish interpreter, said she saw Jordan sitting on the front stoop a few days before another employee called police. Some time later, she retrieved a letter Jordan had left for Thurman on the stoop.

Samara Koffler, a film producer who was Thurman's former personal assistant, testified that she returned from the Bahamas in August 2007 and saw the letter Janas had found. She read part of it in court. "Dear Uma," Koffler read, "I love you completely. Unless rousted, I'll spend the night in front of (Thurman's address)." At another point, she read: "Ask your assistant to let me wait inside until you return. I feel afraid that if I see you with another man I'll kill myself."

Koffler said she told Thurman about the letter and called 911 and told police "an unstable man" was hanging around the house.
[From the Huffington Post]
Thurman's parents Birgitte and Robert Thurman testified as well. They received multiple emails and phone calls from Jordan at their Woodstock, New York home – further indication of just how far Jordan was willing to go to be with Thurman.
Her father, Robert Thurman, said his reaction after reading e-mails from Jordan was to try to remember the FBI's telephone number. He said in court Tuesday he was seeing Jordan for the first time.

Her mother, Birgitte "Nena" Thurman, testified that she believed Jordan "was someone who would benefit from medical attention." She said the first time she spoke to the defendant was in 2005 when he called her home in Woodstock, N.Y., and told her that he "and my daughter had a predestination to be together." She said he asked her to relay that message.

"I tried to assure him in no uncertain terms that this was just a fantasy and he was projecting," Thurman said, and that her daughter had no interest in him.
[From the Huffington Post]
One of my friends works for the Manhattan D.A.'s office and sat in on the trial for a few hours on Monday morning. She said Jack Jordan wasn't one of those visibly crazy people that gives you the chills just looking at him. He looks normal, like a guy you could pass on the street. No odd behaviors or anything in court. She also said that he carries a large backpack with him wherever he goes in the courthouse and the courtroom, which is unusual.
The defense's arguments so far are just that Jordan is a guy in love. With a side of crazy. But apparently they're focusing on the love, and saying he needs mental help but not jail time.
Here's Uma before her taping of The Late Show with David Letterman on April 16. Images thanks to PR Photos.