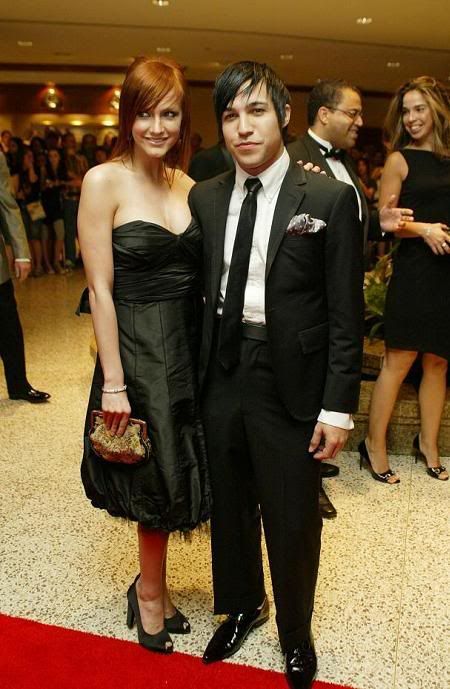 Joe Simpson seems absolutely intent on wrecking as much of his daughters' lives as he possibly can. Truly, if he sat down with a marker, paper, and poster board and drew out some type of chart titled, "Ways to Interfere with/Mess Up Offspring & Impede All Forms of Happiness," he could not have done a better job. Which is why I'm pretty sure he's planned this all out. Because any quasi-sane, loving parent would have stepped off by now and said, "You know what? Whatever I touch, I ruin. Maybe I should stop touching things." And I mean that exactly how it sounds, Joe Simpson. Perv.
Anyway, Joe has decided he wasn't satisfied just ruining daughter Jessica's life with his domineering, interfering ways while filming the Newlyweds with now ex-husband Nick Lachey. There's a reason Nick's an ex, and it rhymes with and looks just like Papa Joe. Simpson has decided (seemingly without involving his daughter in the decision) that Ashley and new fiancé Pete Wentz are going to do their own Newlyweds show. Because why wreck just one marriage when you can wreck two?
Get yourself ready for the return of MTV's Newlyweds — with a twist! Instead of Jessica Simpson and Nick Lachey, it's Simpson version 2.0 is coming your way, with Jessica's little sister, Ashlee Simpson, 23, and fiancé, Pete Wentz, 28, set to appear as the couple in the hit MTV format — at least if Joe Simpson gets his way!

Never one to miss a money-making opportunity, Ashlee's dad and manager Joe seems determined to turn this idea into a reality. "He knows that no one cared about Jessica before her reality show, and he's hoping a show for Ashlee will have the same effect," a source close to the singer tells OK!.

With a wedding on the horizon, a baby on the way and a famous rocker fiancé, Ashlee's life has all the ingredients for a reality show. (Ashlee and Pete's publicist tells OK! they are not set to appear in Newlyweds.) If the program comes off, let's hope the Bittersweet World singer's love story doesn't end the same way as her sister's failed marriage.
[From OK!]
Touché, OK. Touché. Never did I think I could wholeheartedly agree with anything that came from the printing press of OK Magazine, but they're pretty much right on the ball on this one. The Simpson girls clearly don't have the spine to stand up to their father. I was hoping one of their spouses would have, but if I were a betting woman, I would have gone with Nick Lachey long before I could imagine Pete Wentz standing up to Papa Joe. And I think he's a little too busy sharpening his eyeliner pencil to be bothered. The sad thing is, I'd probably watch this show, if only to yell at Joe Simpson.
Here's Pete and Ashley at the White House Correspondents' Association dinner at the Washington Hilton on April 26th. Images thanks to WENN.