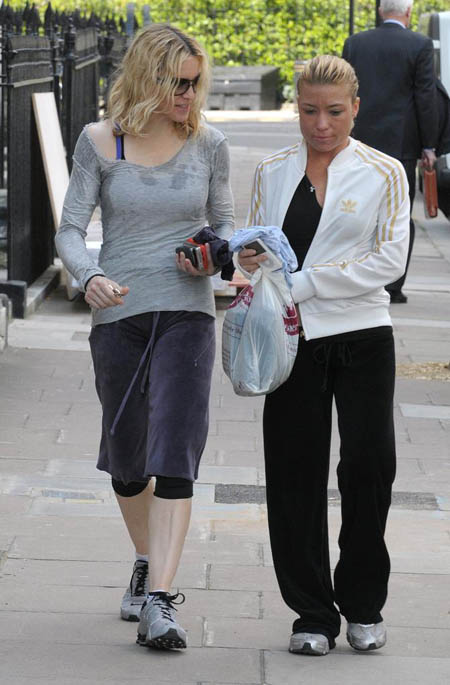 US Weekly has an article with a diet created by Madonna's trainer, Tracy Anderson. I've always followed diets in which you eat at least 1200 calories in small meals throughout the day, and that's about the lowest I can go without freaking out and binging on carbs in the afternoon. It's uncomfortable for me, though, and I prefer to stick to around 1500 calories when I'm trying to lose weight.
Madonna's trainer recommends a diet at under 800 calories a day, which is about 1/2 the recommend amount for women. Most experts say that 1200 calories is the absolute lowest a woman can go without feeling lethargic and deprived. A diet of 1500 calories a day is considered healthier and safer for women, and you can even eat 1,800 calories a day, exercise and lose weight safely.
So US Weekly is printing a diet that falls well under 1,000 calories a day, with some days less than 700 calories, along with recommending 2 freaking hours of exercise 6 days a week. Supposedly you can lose 20 pounds in 6 weeks with this diet. That's insane and counter productive. Here's the diet, along with what I've calculated are the calories for each from FitDay.com. (which I highly recommend if you're counting calories – it's free.)
WEEK ONE
Sunday
Breakfast
1 cup Kashi cereal, with ½ cup plain — or vanilla — nonfat rice milk [262 calories]
Lunch
3 oz grilled chicken breast — or fresh turkey breast (no deli meat!) — with ½ cup each of chopped cucumber and tomatoes [189 calories]
Snack
1 cup mixed berries (try raspberries, blackberries and blueberries) [45 calories]
Dinner
1 cup organic pasta with ½ cup steamed spinach [330 calories]
[Total: 826 calories]
Monday
Breakfast
1 cup Kashi cereal, with ½ cup plain—or vanilla—nonfat rice milk [262 calories]
Lunch
2 hardboiled eggs with ½ cup each of baby carrots and cherry tomatoes [194 calories]
Dinner
3 to 5 oz grilled sea bass with ½ cup steamed spinach [240 calories]
[Total: 696 calories]
[Diet from US Weekly, calories calculated at FitDay.com]
I could eat twice that, still lose weight, feel normal and content that I'm eating healthy. It really pisses me off that a diet that can fall under 700 calories a day is touted as healthy by some celebrity trainer and that's somehow ok.
A much healthier diet is the one that Janet Jackson follows which consists of five meals a day of around 250 calories. You can even eat 6 to 7 meals at 250 calories and it's still healthy and will help you lose plenty of weight. You should eat a mix of carbs and protein, either at each meal or at separate meals if you prefer to separate. But please – don't go under 1200 calories a day. You'll end up losing weight in the short run, but how are you going to keep up that diet? It could also slow down your metabolism. I'm so glad I don't have to starve myself like that for my job. It just seems outrageous to me, especially combined with 2 hours of exercise. I'm super hungry if I eat 1200 calories a day and do an hour of hard exercise, can you imagine following this starvation diet?