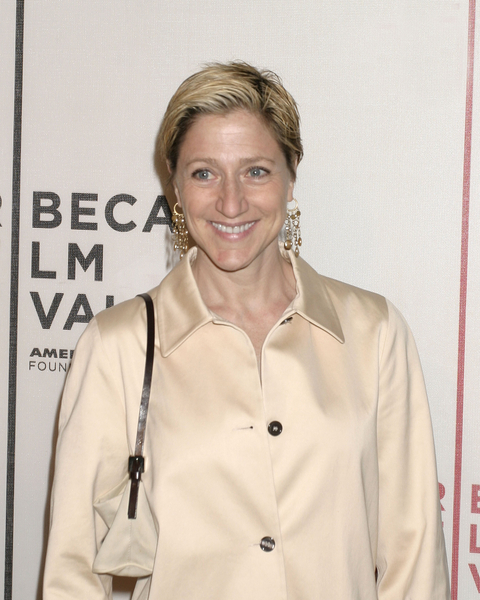 It gives you a chill to hear about all the celebrity women who have faced breast cancer, many of whom take years to discuss their private battle with the illness. About two weeks ago Sex and The City star Cynthia Nixon went public with the fact that she underwent a lumpectomy and radiation in 2006 at the age of 40 after doctors found a small cancerous lump on a routine mammogram. Nixon is the new spokesperson for the Susan J Komen breast cancer foundation and emphasizes the importance of regular checkups with a gynecologist.
Now Sopranos star Edie Falco is talking more about the fact that she too underwent treatment for breast cancer while she was working on the popular series. She says she didn't tell anyone at work because she didn't want them to be worried about her. It sounds like she was undergoing chemo and that it was very difficult for her:
WHEN Edie Falco was battling breast cancer in 2003, she never told any of her "The Sopranos" co-stars. She tells the new issue of Health magazine: "I kept my diagnosis under the radar, even from the cast and crew, because well-meaning people would have driven me crazy asking, 'How are you feeling?' I would have wanted to say, 'I'm scared, I don't feel so good, and my hair is falling out!' I bucked up, put on my Carmela fingernails, and was ready to work." Meanwhile, Falco recently adopted her second child, a baby girl, reports In Touch.
[From Page Six]
Falco did come out with the news earlier. In August, 2004 she revealed that she was given the "all clear" by doctors after completing treatment some five months prior.
Other celebrity breast cancer survivors include Sheryl Crowe, Melissa Etheridge, Kylie Minogue, Gloria Steinem, Kate Jackson, Olivia Newton John, Jaclyn Smith, Suzanne Somers, Rue McClanahan, and Lynn Redgrave. About 1 in every 8 women worldwide will develop breast cancer in her lifetime. Survival rates for all ages are from 81 – 86%.
Edie Falco is shown at the premiere of Tenessee at the Tribeca Film Festival on 4/26/08, thanks to PRPhotos.