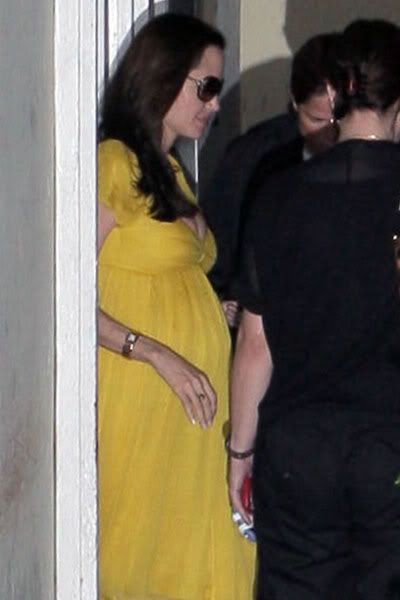 Life & Style has a whole cover story this week that seems potentially sensational and reads "Brad scrambles to get a pregnant Angelina emergency medical care – Angelina's Rushed To The Doctor" which implies that she's had some difficulty with her pregnancy. The story inside is predictably less interesting and just claims that she twisted her ankle badly and sincethere was some swelling the family decided to travel from Texas to LA so she could get care from her personal doctors. They probably did it for confidentiality purposes too:
When Angelina – who's more than six months pregnant with twins – injured her ankle recently, she decided to fly home to LA to have it checked out by her own physician.

"At first she thought it was just a twisted ankle…" says an insider. "But everyone was worried because of the pregnancy and previous problems she's had with leg swelling. Angelina didn't want to take an chances, and everyone agreed. Brad was really worried."
[From Life & Style, print edition, May 5, 2008]
Angelina felt sick and her leg became swollen on the flight
The article claims that "Angie's legs swelled, and she was getting really wobbly and starting to feel sick" on the private plane ride from Austin to LA on April 17. Life & Style alleges that her pain was so bad that they almost decided to make an emergency landing, but I doubt this part is true. It's probably based on the story that she supposedly fainted in February on the plane ride from Iraq to LA.
Angelina's doctor met the flight at the Burbank airport and she "looked like she was hobbling when she was helped at the jet." They were driven to their mansion in Los Feliz, and it is said that "a team of nurses was also waiting" from Cedars-Sinai hospital to treat Angelina.
Everything checked out fine for Angelina and she was seen out at dinner about a week later. Life and Style quotes a doctor warning about the dangers of deep vein thrombosis, which Angelina has not been diagnosed with, for women who are pregnant and at risk on flights.
Angelina is said to be having a hard time with her pregnancy and to be tired all the time. Brad and Angelina have a full time nurse to help.
The Brangelina Family is now in France
Brad, Angelina and their four kids, two nannies and three security guards are now in France at the estate of Microsoft's Paul Allen on the French Riveria. E Online reports that they stayed there before for a week in 2006 and that the villa has 12 staff and views of the Mediterranean Sea. It is thought that Angelina plans to give birth in France and that Brad is looking for a home there, although an earlier story that they bought a villa in the country turned out to be false.
Angelina is shown leaving Marino Restaurant in Hollywood on 4/24/08. Brad and Angelina are shown at the Independent Spirit Awards on 2/23/08, thanks to WENN.