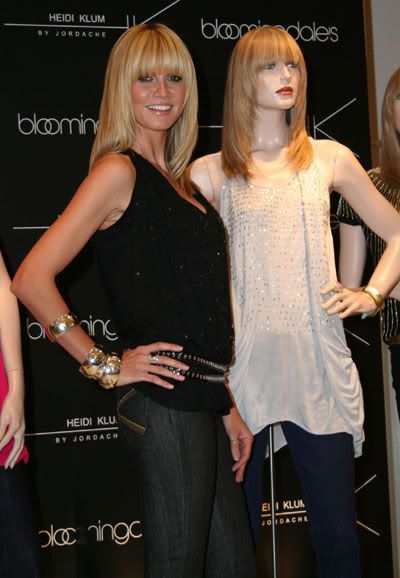 Heidi Klum launched her line of Jordache Jeans at Bloomingdales in Beverly Hills yesterday. The 34 year-old model and mother of three answered a reporter's question about comments from model Iman, who hosts Canada's version of Project Runway. Iman said that she has much more experience with high fashion than Klum, who hosts Project Runway in the US.
Klum said that Iman was right and that she is more qualified to host a fashion design show:
"She [Iman] has done all the big big fashion shows that I've never done. She's been doing it for a little while longer, and she has met all the big big designers in the world."
The 5′ 9 1/2″ 130 pound Klum also added that she doesn't have the slight build required for a high fashion model: "I never really fit in the clothes. I tried. But I never got to walk in Paris and do all the big big fashion shows."
[Quotes transcribed from E! Online interview, available below]
So much for any feud between Heidi and Iman. Heidi Klum bugs me sometimes because her wide mouth seems to plaster nearly every drugstore and billboard in Germany where I live. She always comes across as funny and gracious in interviews, though and she certainly handled this issue well.
For her part Iman seemed like she was answering a specific question about the differences between herself and the US host, Heidi, and she was honest and not too snotty about it. She said "Definitely Heidi and I come from two different places. I'm not belittling Heidi Klum, but I have been in fashion much more than she has. Not to toot my own horn, but I have been one of the best runway girls."
Most of you agreed in the comments that Iman was just being upfront about her experience, and Heidi thinks so too.