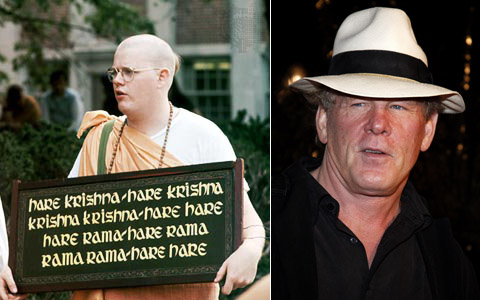 Nick Nolte's girlfriend introduced him to a strange way to stop drinking. She invited her Hare Krishna friends over to their house and they started having drum circles and chanting. The four principles of the Hindu Hare Krishna movement are strict vegetarianism with no meat, fish or eggs, no sex for non-procreation purposes, no gambling and no intoxication which includes alcohol, caffeine and tobacco. Nolte, 67, was photographed passed out drunk on the floor of an airport in Hawaii last July, and has had a lifelong battle with alcoholism. The Hare Krishna's have come to his rescue though, and he's found that their chanting relaxes him and helps him stay away from booze:
Nick's live-in girlfriend, Clytie, 39, introduced the star to the Hare Krishna group, hoping they could help him beat the bottle, confide soruces. "As strange as it may sound, the religious cult seems to have done the trick," revealed the pal.

"The Hare Krishnas come to Nick's Malibu property at night, hold drum circles and chant for him.

"Nick always joins in, and it makes him feel better. It relaxes him.

"Since the Krishnas came into his life, he's completely lost his desire to drink."
[From The National Enquirer, print edition, May 12, 2008]
The Hare Krishnas, or International Society for Krishna Consciousness, are one of the most controversial cults in the world. They were exposed in huge scandals in the 1980s when it came out that children were being sexually and physically abused in their boarding schools. They've been accused of brainwashing young converts and turning them against their families and loved ones, forcing them to live in abject poverty as slaves to the movement.
Good for Nolte for being able to quit drinking. The Hare Krishnas are dangerous, though, and have been involved in murder and abuse scandals that rival even the more hardcore cults. You wonder how much it's going to cost Nolte in the long run if he gets involved with a cult.
Nolte's girlfriend Clytie Lane was once his Pilate's teacher and they now have a seven month-old baby daughter together.
Update: A lot of people from different sources are vouching for the Krishnas and are saying it's not fair to judge them based on the rampant child abuse at their boarding schools in the 70s and 80s. A similar child abuse scandal happened within the Catholic Church and it is fair criticism to say that I am biased in this article. The ISCON organization has arguably changed considerably since then and is willing to discuss their past issues with cult experts as well as change their practices.
Here is a discussion thread I found which I think helps explain my original position on this issue. I would still be reluctant to get involved with a group with this type of history.
Nick Nolte is shown on 1/31/08 at the premiere of "The Spiderwick Chronicles" thanks to PRPhotos.