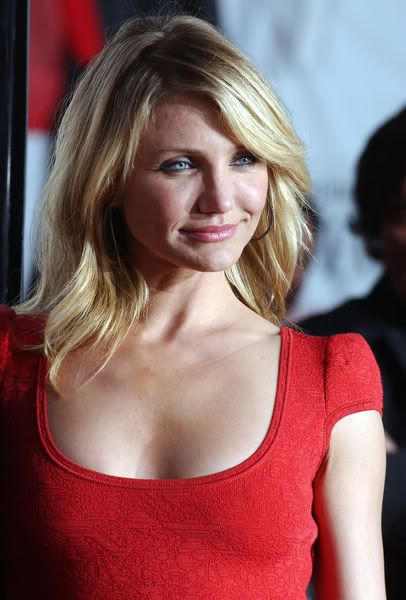 Cameron Diaz made a triumphant return to the red carpet last night to attend the LA premiere of her film What Happens in Vegas. It was her first public appearance after the death of her father at age 58. Diaz issued a statement after her father's death and also wrote a longer letter to her fans explaining why she wouldn't be able to do the press and some European premieres for her new film What Happens in Vegas. She wrote "Due to the loss of my father, I have chosen to be with my family this weekend. But it was important for me to convey to all of you how much I love this film." She also thanks everyone for their support and said she was screening the film with her family because they needed a good laugh.
Cameron wore a tight short red dress with a flat bow around the stomach and black heels. It wasn't my favorite outfit, but she gets a pass for what she's gone through. She looks gorgeous. Her co-star Lake Bell wore a silver metallic dress that was just a tad too short along with tan platform heels. Ashton Kutcher was unshaven and messy in a plaid jacket and polka dot tie. Also shown at the premiere are Eva Longoria, who still looks pregnant to me, Diablo Cody, Brooke Burns, and Bai Ling in a spider outfit. Thanks to PRPhotos.
Here's the trailer for What Happens in Vegas, which opens in the US on May 9. It looks funny and I love Rob Corddry.