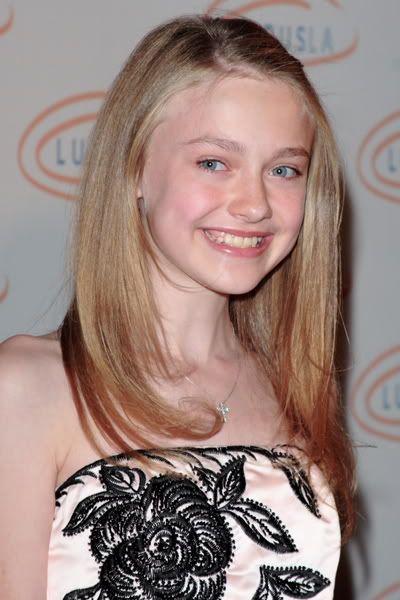 14 year-old child actress Dakota Fanning made an appearance at a ball for Lupus LA yesterday and she looked years older than the last time I remember seeing her. She has her braces off and she's absolutely beautiful. The last event photos I could find of Fanning were from about a year ago and she looked like a little girl at that point.
Fanning has quite a few movies coming up, only one of which is in pre-production. She has Winged Creatures, Push, The Secret Life of Bees, and Coraline due for release and it's possible she still looks like a little girl in those films since they've already been shot. In Coraline, which is in post production and is due out in February of next year, she plays a girl who discovers "an alternate version of her life," and in The Secret Life of Bees she plays a 14 year-old girl who runs away from home and is befriended by a group of beekeeping women in 1960s South Carolina. That's due out in October.
I guess that's what happens when teenagers grow up, but it's amazing to see the transformation in her. She's sure to be taking on more teen roles. Fanning seems like a smart girl who has a lot of hobbies. Wikipedia lists her interests as knitting, swimming, piano, violin, ballet, and horseback riding. Hopefully she'll stay involved with extra curricular activities and won't let the cesspool of Hollywood suck her in as she gets older.