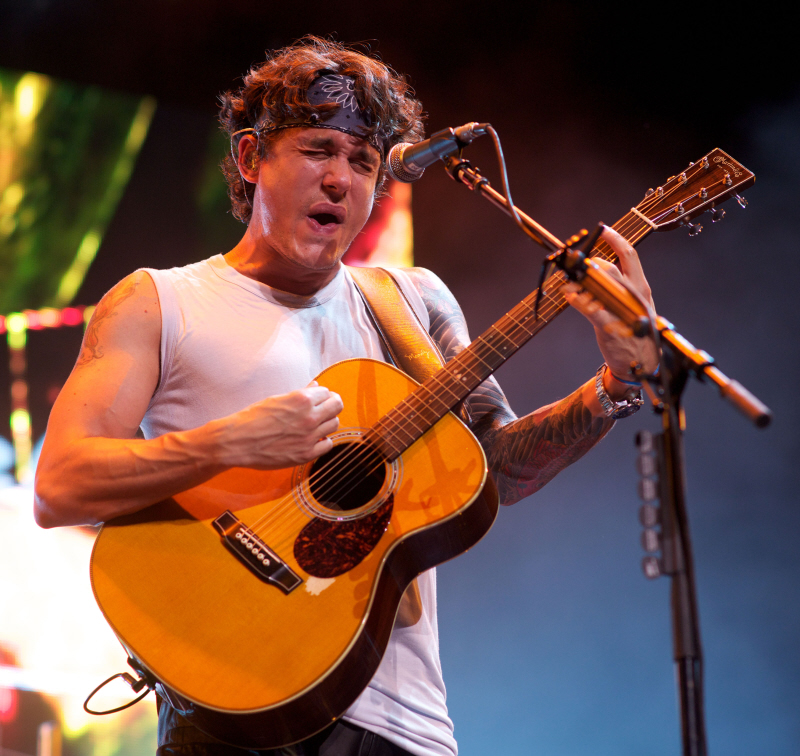 At some point around lunch time on Thursday, The Huffington Post put up a little story in their Entertainment section called "John Mayer & Jennifer Aniston BACK TOGETHER?" It stayed at the top of the Entertainment page for about an hour, and then made the slow descent to the "old news" part, lower on the page. I'll admit, I clicked on the story just to see if there was some new dirt. There wasn't. The HuffPo piece was based on this E! News report from last week – basically, that Aniston was backstage, in the wings, at Mayer's concert, and he kept looking over at her and flirting with her as he performed.
All in all, a pretty innocuous little piece, made worse by the fact that it was actually old news (old news in the gossip world). However, this was the biggest thing to happen to John Mayer in months. And Mayer's Famewhore Douche had to come out to play. BIG TIME. Mayer responded to HuffPo's article a few hours later:
Ahh, Huffington Post, the internet Death Star. The world's first spectator banking website. Come watch a site's intelligence move in and out like bellows of accordion depending on whether or not there's ad dollars to be sucked out of any willing orifice.

From their front page item "BACK TOGETHER?":

Are John Mayer and Jennifer Aniston back on? Mayer seemed to indicate they might be when he spoke in front of a crowd of 18,000 at his concert on Sunday at the Hollywood Bowl in LA.

"I believe in second chances!" he said. "You might have been a pain in the ass the last time around, but you can still start over again from home base. Next time you get a text from the one you love just text back 'come over' – no matter what happened in the past. If you really love someone, just tell them and be with them."

Huffington Post, this is reporting? How do you pay your writers now, in Silly Bandz? Do you meet your sources in a malt shoppe? This is equal parts fabricated, cobbled together and misleading. Let's break it down: I don't think I ever said "I believe in second chances!" but I can't be 100 percent sure, as it's possible I could have accidentally said something succinctly and to the point. The next sentence is from the song "Half of My Heart," in reference to the idea that meeting new people allows for hiding old mistakes. (Well, for most people at least.) The sentence about texting comes from the show's encore, "Edge of Desire," in a moment of giving people permission not to beat themselves down for still wanting someone. Two sentences about different things at different points in a concert.

The reason I'm calling you out instead of all the other magazines that make stories up out of thin air is that In Touch and Star Magazine aren't concurrently writing pieces about Pat Tillman or WikiLeaks. Those other rags know who they are, and even if they're obnoxious, I'd rather have to live with them because they (and the rest of the world) know where they stand, which doesn't make them one tenth as dangerous as you are. You're a stripper wearing reading glasses. Or maybe you're an insolvent law student willing to dance for a few extra dollars. Either way, it's uncomfortable to watch you try to wrap yourself around a pole when you have that C-Span scar.

I'm not a politician. I have no celebrity endorsements. So it is with a clear conscience that I'm able to title your piece on this post, should you decide to try make a few more bucks for whatever body wash or slasher flick you're hocking today.

JOHN MAYER SLAMS HUFFPO: " GO F**K YOURSELF!"
[From John Mayer's Tumblr]
Mayer's back, bitches. Would you like some racist humor with your asinine rant, peeps? How about we get some talk about sexual napalm in the hizzy, sluts? BAM! C-Span scar!! Mayer just blew your mind, didn't he? "You're like a stripper wearing reading glasses"!!! BURN. No, seriously, burn this douchebag. With fire. The gist of Mayer's hissy fit is that HuffPo shouldn't have an Entertainment section because they report real news. I guess The New York Times shouldn't have an Arts Section and the Washington Post shouldn't have a Style section – you know, because people might get confused! "Oh my God, Cooter, on one page they got some dang gum news about war in Afghanerstand, and on the next page theys talkin' 'bout this Mayer fella! That's so confuzzling!!!" I especially like his "burn" about ads too. Keep in mind that Mayer's rant is posted on his website/Tumblr page, where he's advertising dates for his next concerts with Keith Urban.
Oh, and he didn't really deny that he's slipping Aniston his KKK dong, did he?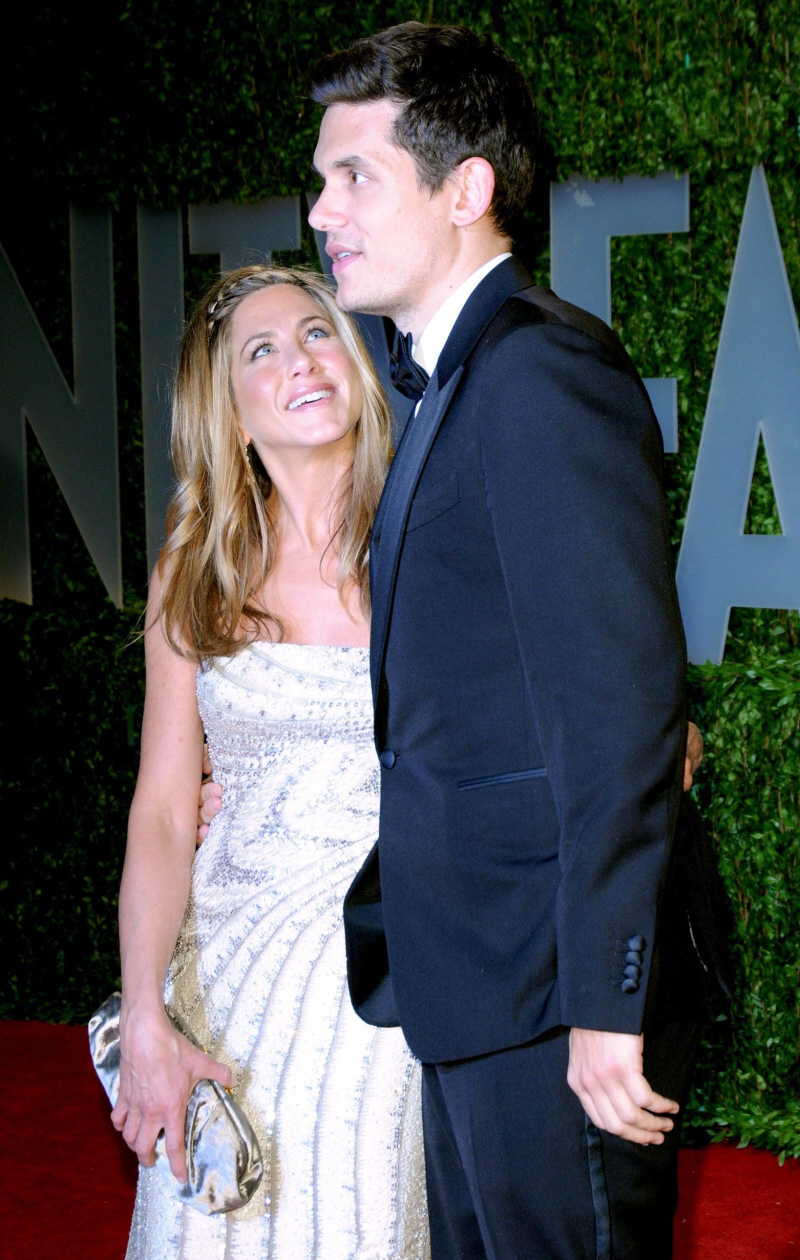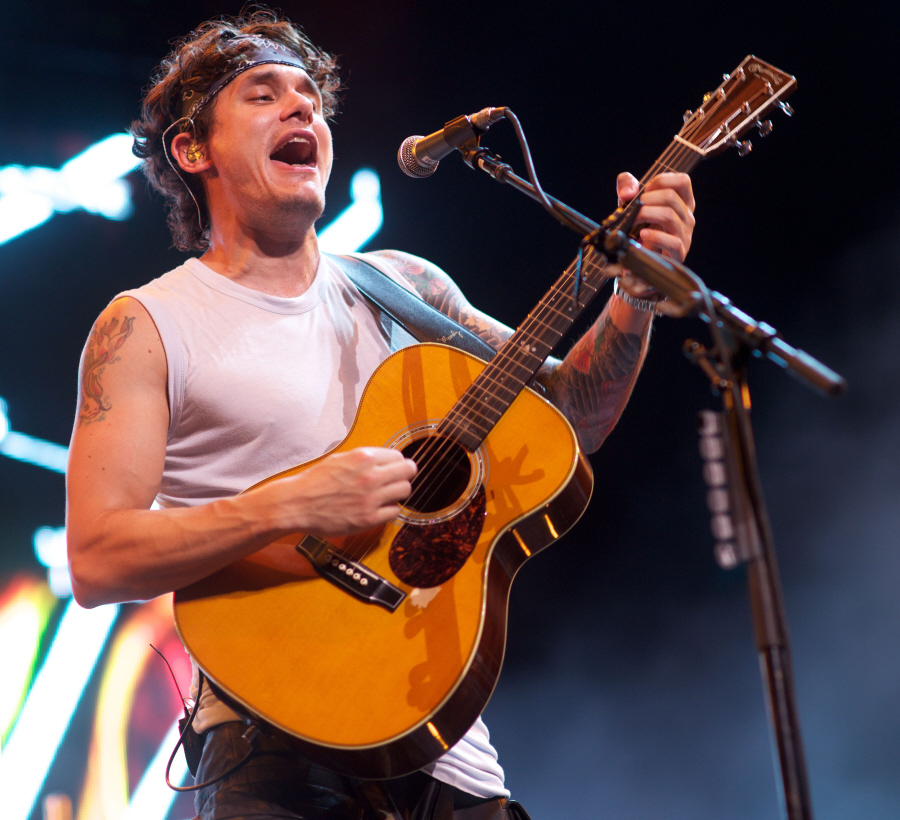 Mayer performing on August 14, 2010 in Chicago. Aniston & Mayer at the 2009 Oscars. Credit: WENN.