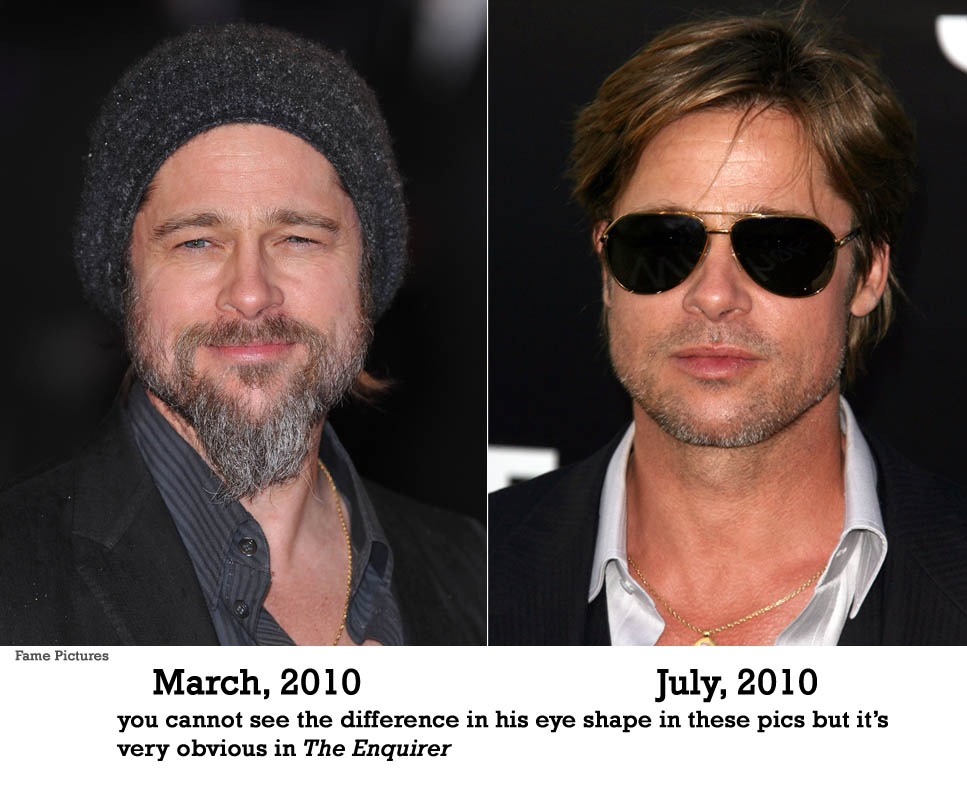 The National Enquirer has a story this week about how Brad Pitt had some work done at the dermatologist's office to make himself look "10 years younger" for his role in Moneyball, filming now. They have a photo of Brad that's recent where he's not wearing sunglasses, and his eyes look like they're a completely different shape compared to how he looked a few months ago when he had that mangy beard. Here's are two links to some photos of clean-shaven Brad recently, but they don't come close to showing the very clear difference in his looks that the Enquirer does. We did our own photo comparison, but it's not even close. Anyway, this could explain why he wore sunglasses to the premiere of Salt – he looks really different and it's noticeable. Here's part of the Enquirer's piece:
The 46-year-old actor has been getting injections of the wrinkle filler Radiesse to make his face look younger and smoother, the Enquirer has learned. And it appears to be having the desired effect. Not only does Brad's face look brighter and more radiant, Angelina has given her seal of approval.

"Brad hasn't looked this good in years – and Angelina is definitely pleased about his makeover…"

For months, the actor hid behind a scraggly beard "because he was so self-conscious about how he was aging."

Brad was forced to shave when he began his new role in the baseball film "Moneyball." Before production began, he paid a visit to the office of Dr. Mark Rubin, his longtime Beverly Hills cosmetic surgeon…

"Brad felt he needed to take 10 years off his face…"

Added the source: "Now, with his smooth skin, he says his kids always want to touch his face – and so does Angelina!"
[From The National Enquirer, print edition, September 6, 2010]
You know what? I liked him better before. He's too much of a pretty boy again now and when he gained a little weight and grew that graying beard he was sexy with a normal guy edge. That's more attractive to me than cookie cutter perfection, maybe because it's more accessible or whatever, but I liked it. I never got hot for skinny clean cut Pitt, but mangy beard Pitt has a real appeal for me.
Anyway as Michael K at D-Listed would write, "that's some Benjamin Buttons sh*t." Brad does look like he erased 10 years, and it's not cute. Maybe it's just from shaving his beard, but the Enquirer makes a good case that there's some surgical/injectable intervention going on.
Oh and The Enquirer has another story this week about how Pitt may play the Swiss psychologist Hermann Rorschach, who invented the inkblot personality test. Brad looks a lot like Rorschach and supposedly his family brought it to his attention. He's now said to be "talking to production partners" about developing a script that's been "making the rounds" on Rorschach. The Enquirer even credits TotallyLooksLike for making a comparison between the two. I hope this film is a screwball comedy. For some reason that's what comes to mind when I think of Brad attached to this project.
Photo Credit: Fame Pictures