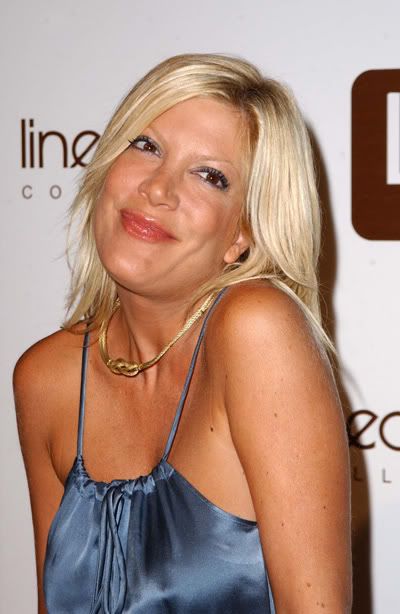 Tori Spelling's relationship with her mother is so bad that she didn't learn about her father television producer Aaron's death until after it hit the media – and she read a consolation e-mail from a friend:
On the night of June 23, Tori Spelling sat in Betty's restaurant in Toronto, eating a hamburger with… her husband… although her father… had suffered a stroke five days earlier, he was, as far as she knew, resting comfortably at his home. Tori was booked on a flight leaving the next morning for L.A. "I was told he could have had months to live," she tells
Us
.
Then, during dinner, came the heartbreaking news, received in the inbox of her BlackBerry: "A friend of mine had seen a TV report and e-mailed me, 'I'm so sorry. I just heard your father died.' And I was in total shock."
The strange truth, says Tori, is that she had not received a call from anyone in her family before the death was made public. Her sorrow quickly turned to anger. "My first thought was, I can't believe my mom didn't call me!"
(From Us Weekly print edition, 7/10/06)
Tori is fighting with her mom, Candy, and hasn't spoken to her for months. She wanted to make fun of her mom's eBay hobby in her VH1 faux reality show, so NoTORIous, but her mom got pissed and refused to go along with it. Loni Anderson had to play her mom on the series.
Tori says that she did see her dad on June 11th, and that she believes he held on until he was able to see her, and then was able to slip quietly away.
"Honesly, I believe 100 percent [he was holding on for me]," she says. "And part of me knew as soon as I saw him he would start to let go." Their final conversation took place just days after his stroke. "The last words he spoke to me were over the phone a couple days before he passed," she recalls. "He said, 'I love you, babe.'"
When I read that Tori thought she somehow gave her dad permission to die, I thought that was arrogant of her. Then I asked a couple of people about it and they had similar stories of loved ones waiting to see someone before they died. This is all too sad to think about, so let's move on to trashing Tori.
It's not surprising that her family isn't pleased with her. She left her first husband, writer Charlie Shanian, after barely a year of marriage and a $1 million wedding at her father's estate. She was cheating on the guy with actor Dean McDermott, who was also married with a wife and kids at home. She married McDermott in a private ceremony in Fiji on May 7 with none of her family present.
Tori attended her dad's funeral on June 25th, but her mom issued a statement about Aaron's death the day before only on behalf of herself and Randy. Tori's name was left off in a deliberate snub.
The US Weekly article speculates that Tori's mom may be having an affair with "Beverly Hills businessman Mark Nathansan." Of course Tori blabbed about this to the rag, but then she tries to take the high road by saying "My mom's behavior simply made me uncomfortable to be around my family."
Tori's mom is completely outraged by accusations in the cover story on this week's Us, and issued another statement condemning Tori for her big mouth:
"We are deeply saddened that, during our time of loss and grief, we are forced to respond to the media frenzy caused by the mean-spirited and surprising comments made by Tori to the press, just two days after the passing of [AARON SPELLING].
As we try to honor his memory with love and respect, the sudden media frenzy she has created at this sensitive time is hurtful and very disturbing.
Aaron's legacy deserved pure and unadulterated tribute and recognition which, sadly, has been tainted.
Everyone deals with grief in a different way, and since Tori chose not to be here at that time, we believe she is having a harder time dealing with that loss. We understand how difficult it might have been for her to be here, and, perhaps, more difficult for her after she arrived. Aaron loved both his children with all his heart, and he understood how hard it was for her.
We hope Aaron will be remembered with reverence and spirit for the monumental legacy he has left and not for the petty and tabloid headlines which have marred his articles of remembrance. We have mourned our great loss as a family and will continue to do so as that is what Aaron deserved."
Tori's father Aaron was known for conspicuous consumption and has the largest mansion in all of California. Her mother is characterized by Us as "an ex-model with a penchant for furs, diamonds and doll-collecting."
No details of Aaron Spelling's will have been made public yet, but Tori must be expecting to get a large chunk of her father's fortune or she wouldn't be so bold as to sell her story so soon after her father's death.
Tori is rumored to be pregnant, which might explain the terrible outfit she wore to the Linea Pelle 20th Anniversary Party in LA on 6/12.
Pictures [via]