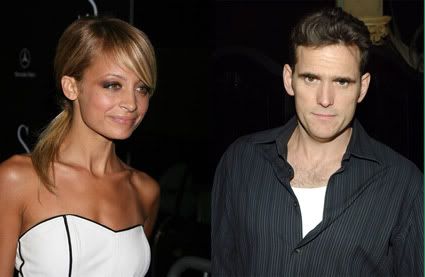 Nicole Richie was supposedly back with DJ AM for the third time, and was seen getting lunch with him at In-and-Out burger on June 20th. It's hard to keep up, though. Us Weekly says:
"[Richie and DJ AM] are just friends," insists a source. "She doesn't want to let go, but doesn't want to get back together [either]."
(From Us Weekly print edition, 7/10/06)
Richie is playing the delicate game of trying to keep sleeping with her ex to minimize the breakup pain, but keeping her options open. She was spotted with unlikely beau Matt Dillion at Hollywood hotspot Chateau Marmot last week:
After a Dolce & Gabanna party at the Hollywood Roosevelt Hotel on June 22, a Richie pal tells Hot Stuff that the star, 24, hooked up with Matt Dillion, 42, in a room at the Chateau Marmot. "They have great chemistry," says the friend. Fellow guests at the party earlier in the night say it firsthand: A source says the two.. "cuddled and looked very cozy. They spent the whole time at the party together and seemed so into each other." (Dillon's rep… tells Us, "Someone's making up a story. He spoke to her for five minutes at an event, and that's it…" The pal says Dilon has called Richie since their night together, but adds, "It's not very serious. Nicole is enjoying being single."
(From Us Weekly print edition, 7/10/06)
Even if Dillion only spent five minutes with Richie, that's plenty of time for a meaningful relationship to develop. Both Busta Rhymes and Kevin Smith's pal Jason Mewes claim to have had quickies with the tiny socialite.
Richie and Dillon make an unlikely couple, but Dillon seems like a good guy who's mature enough to commit at least. Maybe something will come of it.
Dillon will next star in the comedy "You, Me and Dupree" as Kate Hudson's husband. Owen Wilson plays an unwelcome houseguest.
Here is Richie at the opening of Club Social Hollywood on 6/27. Matt Dillon is shown with director Brett Ratner at a party for the president of the Dominican Republic on 6/23, and at the Dolce & Gabbana party where he hooked up with Nicole Richie on 6/22. He is also seen with his brother, Kevin, at the "Entourage" Season Three New York Premiere after party on 6/7. Only the first picture of Richie is high resolution.
Get your hair to look like Nicole Richie's with easy to follow instructions at Beauty Riot.