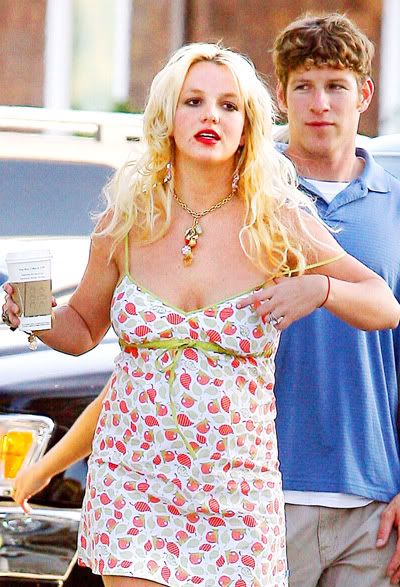 Britney Spears' gorgeous bodyguard and sometimes manny, 28 year-old Naval Academy graduate Perry Taylor, has been removed from his close position with the troubled pop star and is now working security detail on a daily as-needed basis. He was helpful, attractive, and friendly, and K-Fed is said to have asked Britney to fire him after he heard about how Perry was changing Sean Preston's diapers and serving as Britney's unofficial nanny:
Perry Taylor, who was originally hired to be one of Brit's bodyguards, was relieved of his duties as Sean Preston's nanny but will stay on in security detail. "Kevin didn't think it was proper to use him as a nanny," says a pal. "He wasn't jealous. He just think it's a job for a real trained nanny."
(From In Touch print edition, 7/10/06)
Obviously K-Fed is still feeding his friends quotes to give to the rags, because the source was careful to say that he wasn't jealous or anything. Oh of course not. We've never seen Kevin wearing a Baby Bjorn, but Perry donned the baby carrier with pride and a cute button smile.
People were unsure about Perry's identity at first, initially confusing him with Britney's record producer, J.R. Rotem, with whom he bears a resemblance. Perry's identity soon came out, though, and he became an Internet and press phenomenon.
Perry was touted as the reason behind Britney's cleaned-up appearance in the absence of K-Fed, and people speculated that she was having an affair. Perry's mom put those rumors to rest by telling the press that her son had a hot live-in girlfriend.
Everyone from the NY Times to U.S. News and World report discussed the merits of male nannys, or the "manny." We couldn't get enough of Perry.
Then, last week, Britney was seen out alone and with new jet-black hair after her "Dateline" debacle. It seemed the rumors of Kevin's dissatisfaction with being upstaged by the help were true, and that Britney had obeyed her do-nothing husband and got rid of the best thing that happened to her since the birth of her baby.
We haven't seen the last of Perry Taylor, though. We hope that Angelina is watching this young guy's rise to fame, and will hire him to soften up the image of her security force while lending an extra set of hands to care for Shiloh and Zahara.
Thanks to Kylie on MySpace for reminding me about Perry.
Here are pictures of helpful Perry during his employment with Britney. He's been seen buying flowers for Britney, and he even holds the car door open for her.